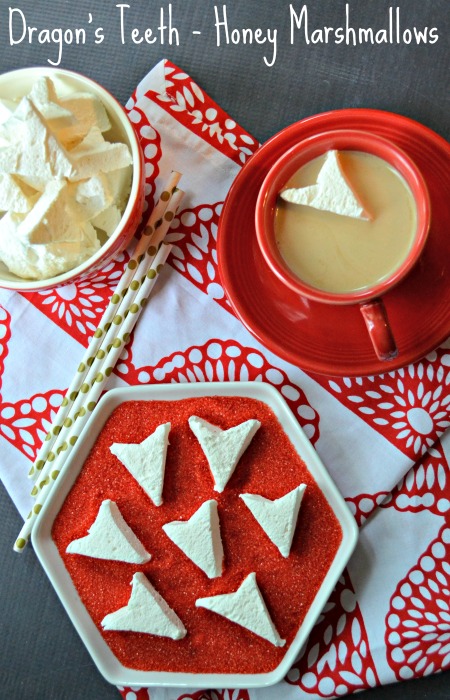 If you follow me on social media, you know that I spent some time in California last week, I headed out to Dreamworks Animation on behalf of the Netflix Stream Team and got a huge sneak peek at Dragons: Race to the Edge (and Dinotrux, but I'll tell you more about that in August.) As always my opinions and words are still my own.
After screening the first two episodes we got to meet with the showrunners, director, writers (the group pictured below) and more. We even had a chance to ride Toothless using the Oculus Rift (that was both fun and terrifying.) It was really eye-opening to learn just how much work goes into creating a show like Dragons: Race to the Edge.
One quick fun fact, 5 episodes of this series is an equal amount of both work and run-time of a feature film. The team gets about 4 years to work on a feature film, and only about 5-6 months to complete 5 episodes. …and let me say, this series is just as good, if not better than the movies so the quality is definitely there. Pretty impressive!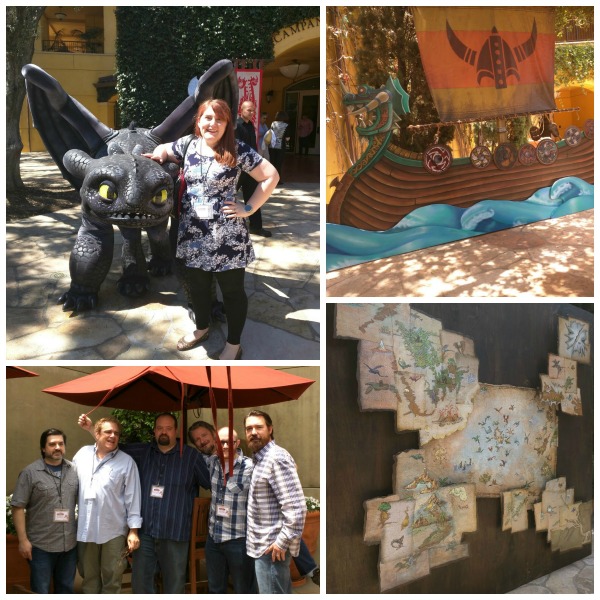 We heard a lot from the producers Art Brown and Doug Sloan throughout the day, when they weren't aboard this Viking ship below.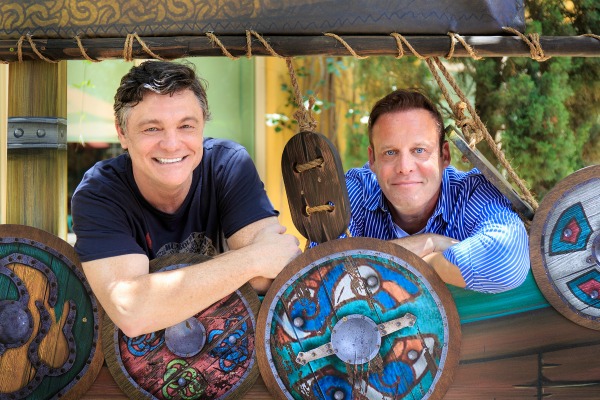 Dreamworks Animations itself, well…I think these photos can speak for themselves.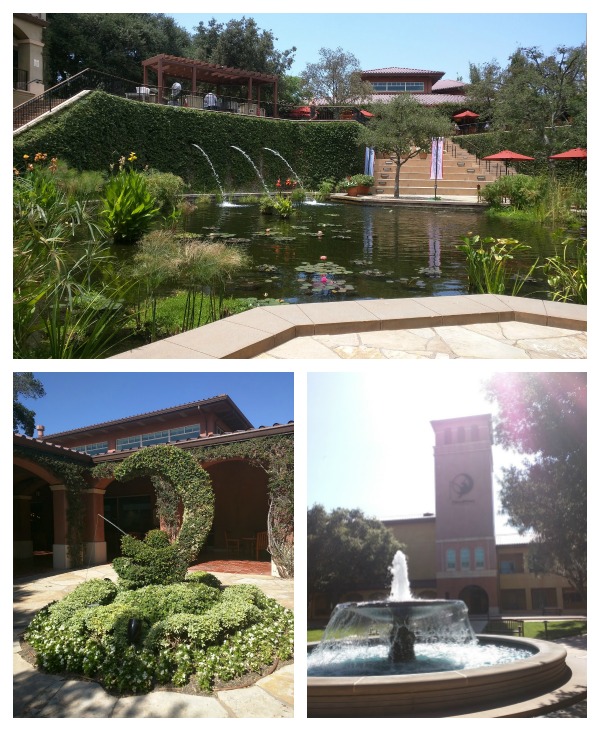 We had lunch in the lagoon area (top photo) both days, and it was amazing. I had some downtime during one of my sessions and I perched myself right next to the water and watched the Koi fish swim around right next to me. So I'm guessing it wouldn't be too hard to go to work here everyday.
Anyway, back to the Dragons!
You and your family are going to love Dragons: Race to the Edge. Seriously, it's awesome. I like my fantasy stories to be epic in scale, I like action, I like cool characters, I might even like a bit of humor and romance, and I like Dragons. You'll get all of that within the first two episodes of Dragons: Race to the Edge.
I just had to make a Dragon inspired treat. What better treat than Dragon's Teeth? Actually, Dragons teeth play a big part in episode two!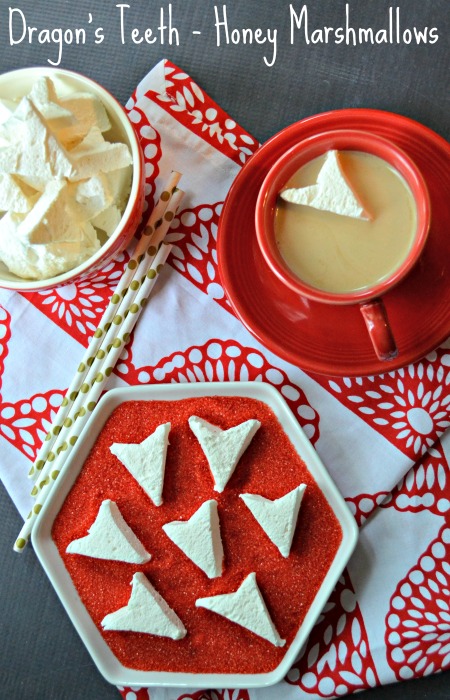 So I got to work making homemade honey marshmallows. I'm kind of a newb when it comes to making candy, and had never tried making homemade honey marshmallows, or marshmallows of any kind, before. I've got to say though, it was pretty simple!
How cute are these? Seriously.
They're so good in coffee too, and this recipe is almost completely honey with just a dusting of powdered sugar. Meaning, these would make some pretty guilt-free S'mores.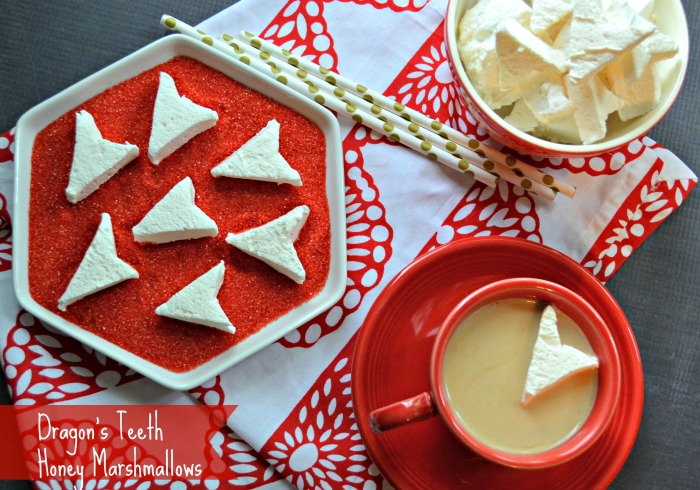 The final product will be a lot softer and stickier than packaged marshmallows. You can definitely taste the honey, which gives these a deliciously sweet flavor.
How fun would these be to serve at brunch? I'm thinking they would be a great addition to a dragon themed party too. You can dip them in sprinkles to brighten them up with some color too.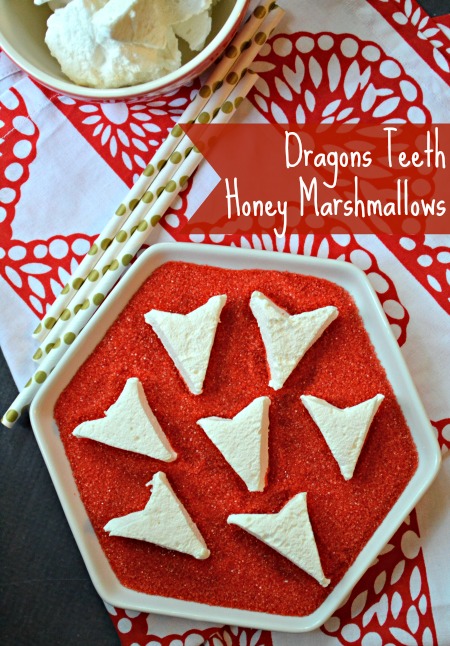 | | | |
| --- | --- | --- |
| Honey Marshmallow Dragon's Teeth | | Print |
Ingredients
1 cup water, divided
3 tablespoons unflavored gelatin
1 cup honey
1 teaspoon vanilla extract
¼ teaspoon salt
powdered sugar to coat the outsides of the marshmallows
Instructions
Line a square 8x8 inch pan with parchment paper, leave about an inch of overhang on each side to use to help lift the finished marshmallows.
Dust parchment paper with powdered sugar.
In your mixer bowl, add ½ cup water and sprinkle gelatin on top to flour.
While the gelatin is flowering, pour the other ½ cup of water in a saucepan along with the honey, vanilla and the salt. Turn the burner to a medium high heat, bringing the mixture to a boil. Whisk mixture for about 5-6 minutes, you want it at the soft ball stage. Immediately remove from the sauce pan from the heat. Honestly, I'm not a pro candy maker and didn't have a candy thermometer, so I winged it and took it off the stove when it was starting to bubble to the point where I was concerned it would start evaporating and it worked perfectly.
Turn your standing mixer on low. Slowly pour the honey mixture into the bowl combining it with the flowered gelatin. Turn the mixer to high and continue beating the mixtures for 10 minutes until it becomes thick like marshmallow cream.
Turn off the mixer and pour the marshmallow cream into the parchment lined pan.
Try to smooth the top out the best you can with a rubber spatula and add another dusting of powdered sugar on the top.
Cut a piece of parchment paper big enough to cover your pan. Place it on top of the marshmallow mixture. Smooth down with your hands.
Allow your marshmallows to "set" for at least 6 hours, overnight is best.
Remove marshmallow and cut with an extremely sharp knife. I cut mine into long strips, then in half again so each strip had half the height. Then I cut into triangles and took out little notches for the "teeth."
Make sure to watch Dragons: Race to the Edge this Friday exclusively on Netflix!
 What would you use your Honey Marshmallow Dragon's Teeth in? Coffee? S'mores? or something entirely different? Let me know in the comments below!
Written by, Brittany, the geek behind the blog. I share lots of recipes, my thoughts on the latest tech gadgets, my favorite geeky games, and snippets of life as a Work-at-home mom.