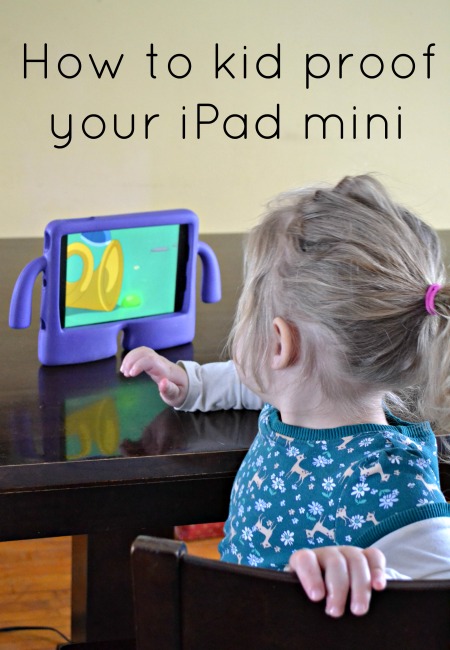 My toddler, Aliceana, has her own iPad mini, mostly because I received it from a company that I work with and I'm not an Apple girl what-so-ever. She's also used a Kindle Fire HD and a Nabi 2 and each of those come equipped with a nice bumper. So I fell in love with having bumpers on tablets for toddlers, it's easier to hold and it protects the tablet from the destruction that toddlers are really good at. The iPad mini definitely needed some protection from drops and falls, I needed to figure out how to kid proof your iPad mini with iPad mini accessories.
So of course I needed to find a bumper for her iPad mini and I knew that Speck Products had a really great (and adorable) option
So our friends at Speck sent us over an iGuy and a  ShieldView iPad mini Screen Protector for review.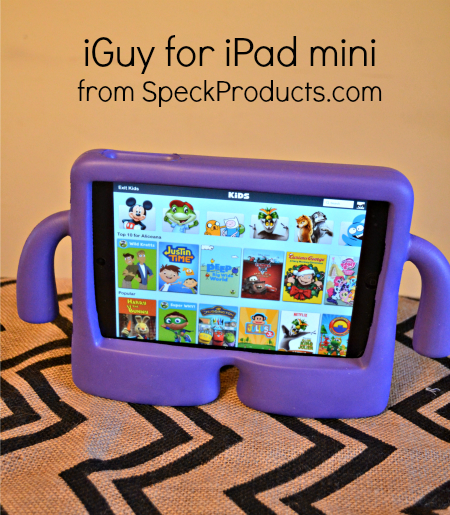 Isn't the iGuy just adorable?
He's perfect for your kids to hold while streaming on the couch and great for your toddler to carry around the house.
I think the best part is that he stands up. If you're almost done making dinner you can let your toddler watch the rest of that cartoon at the table with the iGuy, or sometimes while I'm working at the table Aliceana wants to watch her shows next to me so we'll set up it then too. Of course I can't actually work when Chuggington is playing loudly right next to me, but hey at least she can sit next to me and I can pretend like I'm working. You can see it in this fun mode in the title image.
The iGuy is seriously the best for toddlers, and it comes in a variety of colors. I chose purple because it's the signature color of both Doc McStuffins and Sophia the First.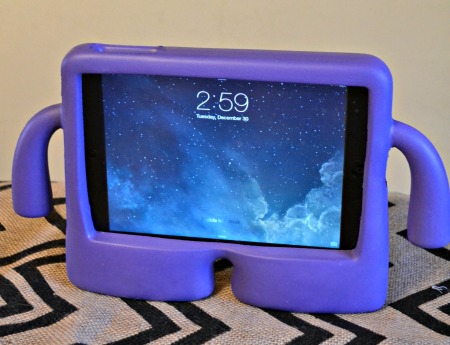 I love that my daughter can drop her iPad mini (because let's face it, it happens) and I don't have that moment of fear when I turn the device over hoping not to see a cracked screen.
Of course the ShieldView iPad mini Screen Protector helps too, I know that the iPad is a whole lot safer now. It's also protected from more scratches. It's unbelieveable how many scratches Aliceana had on the screen from the month or so that we had the iPad mini unprotected.
Seriously, buy a screen protector immediately, that goes for you adults too! AJ was the victim of shattering a brand new phone because he didn't have a screen protector, he was painting the house and the sharp corner of a tool lightly hit the corner of his new phone and the screen completely shattered. Speck has ShieldView Screen Protectors for a range of Apple and Samsung devices. They are so simple to install and they work great.
We trust Speck products not only to protect Aliceana's iPad mini, but also to protect our Samsung phones and Samsung Tabs. Literally everything that can have a Speck case in our house has one, I feel like they're the best phone and tablet cases out there in both the style and durability department.
You can purchase the ShieldView Screen Protector for iPad mini here and the iGuy for iPad mini here. If you have an Apple, Samsung, HTC, or LG product that needs protecting make sure to check out SpeckProducts.com!
Written by, Brittany, the geek behind the blog. I share lots of recipes, my thoughts on the latest tech gadgets, my favorite geeky games, and snippets of life as a Work-at-home mom.