This shop has been compensated by Collective Bias, Inc. and its advertiser. All opinions are mine alone. #proplanprobiotic #CollectiveBias
This week was so cold that almost every business in our state was closed for at least a day and a half, schools were closed, libraries were closed, and mail wasn't delivered. It ended up being in the negative 20's for almost 2 days, and the wind chill made it in the negative 50's. I live in Wisconsin, not Antartica, my poor dogs had to stay inside all day long, except for the extremely quick potty breaks.
Our dogs are extremely active, they love playing outside and they would all day long. However Trio is a German Shorthaired Pointer, and he hates cold and snow. So he stops playing outside in November and waits until the winter thaws out completely. Watson is a German Wirehaired Pointer and he loves the cold and snow in not so extreme temperatures. He loves diving into snow mounds and he'll lay in the snow and play with sticks until we force him outside. So these last few days were hard for Watson and we had to come up with some indoor activities for him. He would much rather it warm up so he can stick his face in the snow.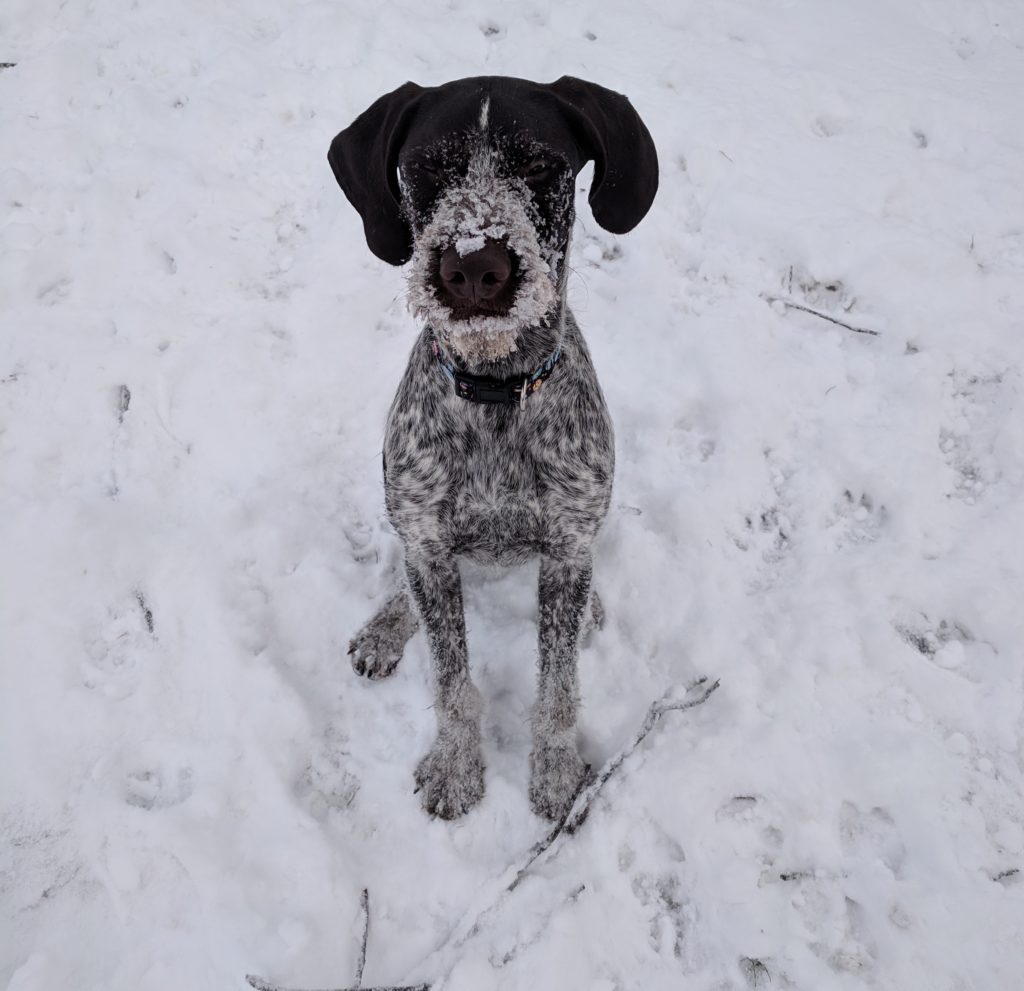 We love to play games with our dogs to keep them active, one game is hide-and-seek. The humans of the house hide and call the dogs and wait until they find us. It's hard not to laugh when they walk right past us. We love to snuggle with the pets with a good book or movie, and they love snuggling each other too.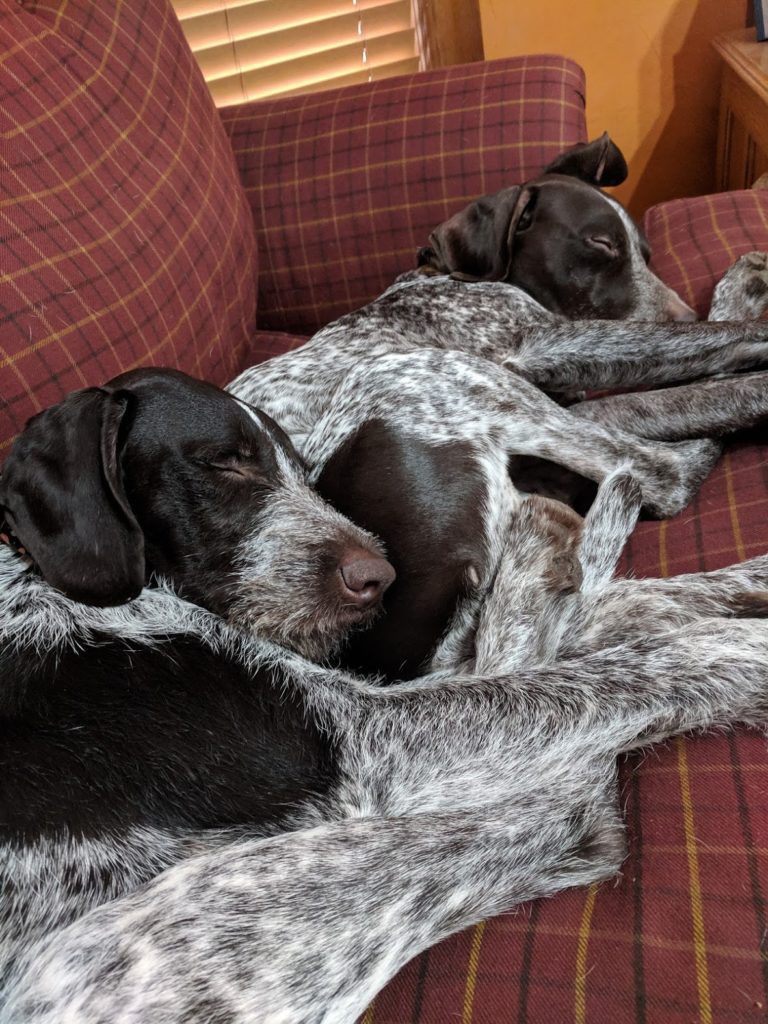 We love dog puzzles too! We put Purina® Pro Plan® Savor® Shredded Adult Dog Food – Chicken & Rice Flavor  in the puzzles and watched as they figured it out.
Speaking of our favorite food, did you know Purina® has a money-back guarantee (see proplan.com/guarantee for full details). For more details, visit ProPlan.com. Purina® Pro Plan® Savor® Shredded Adult Dog Food – Chicken & Rice Flavor has real high-quality poultry, meat or fish as the #1 ingredient in dry formulas and advanced nutrition with great-tasting formulas to deliver a sensational mealtime experience.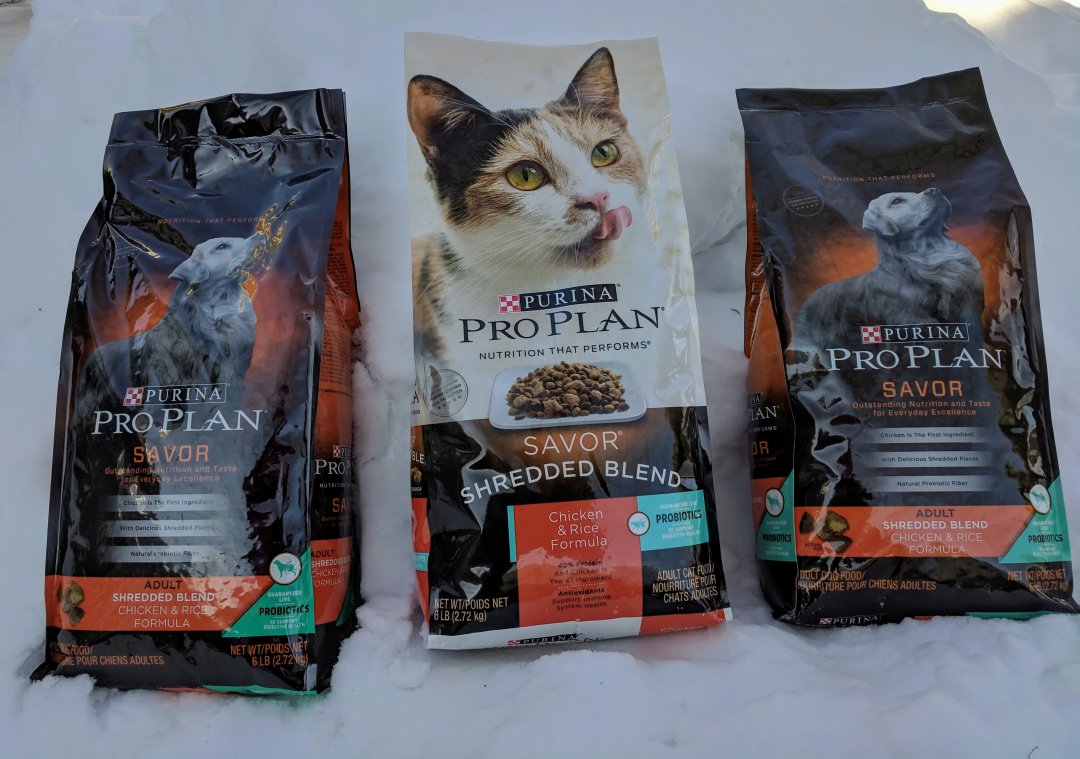 Our cats, well, they had no problem finding places to snuggle up to beat the frigid temperatures. They're very spoiled housecats. Here's a picture of Lucy snuggled up to her favorite stuffed animal in her cat tower that almost reaches the ceiling, she wasn't thrilled that I woke her up.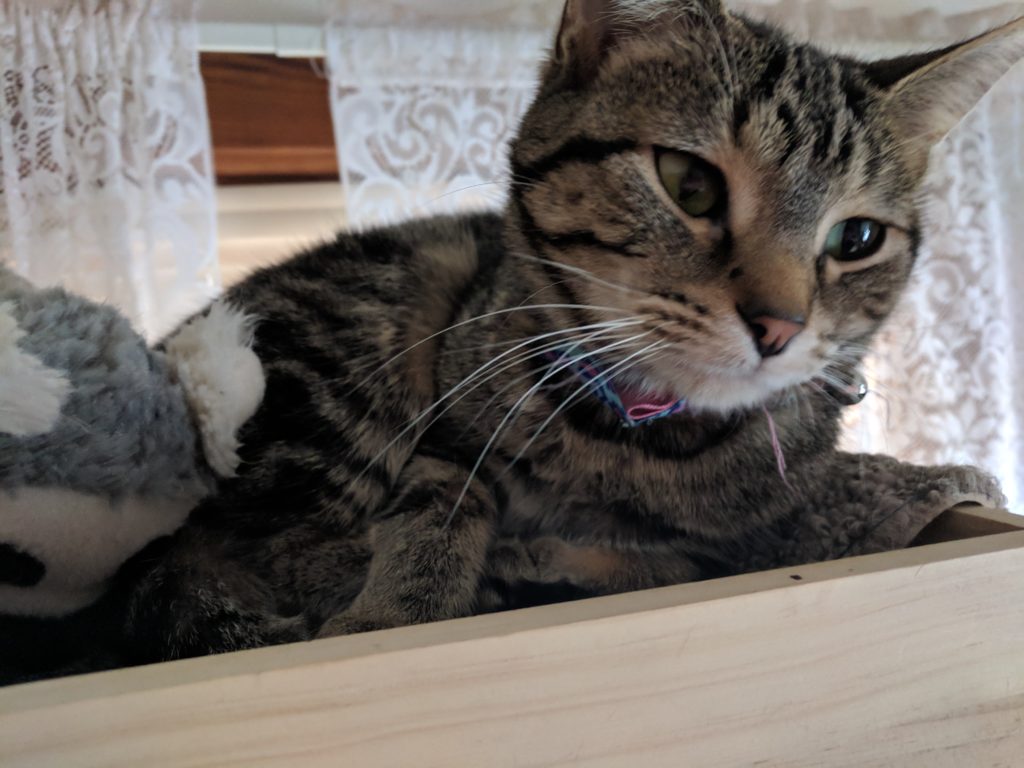 Princess snuggled in my lap while I wrote this, and the dogs weren't that far away. We use Purina® Pro Plan® Savor® Shredded Blend Adult Cat Food – Chicken & Rice Flavor, advanced nutrition your cat needs to help her live a healthy, active life, in a variety of flavors and textures for a sensory experience she'll love. Real protein is the #1 ingredient in all dry formulas.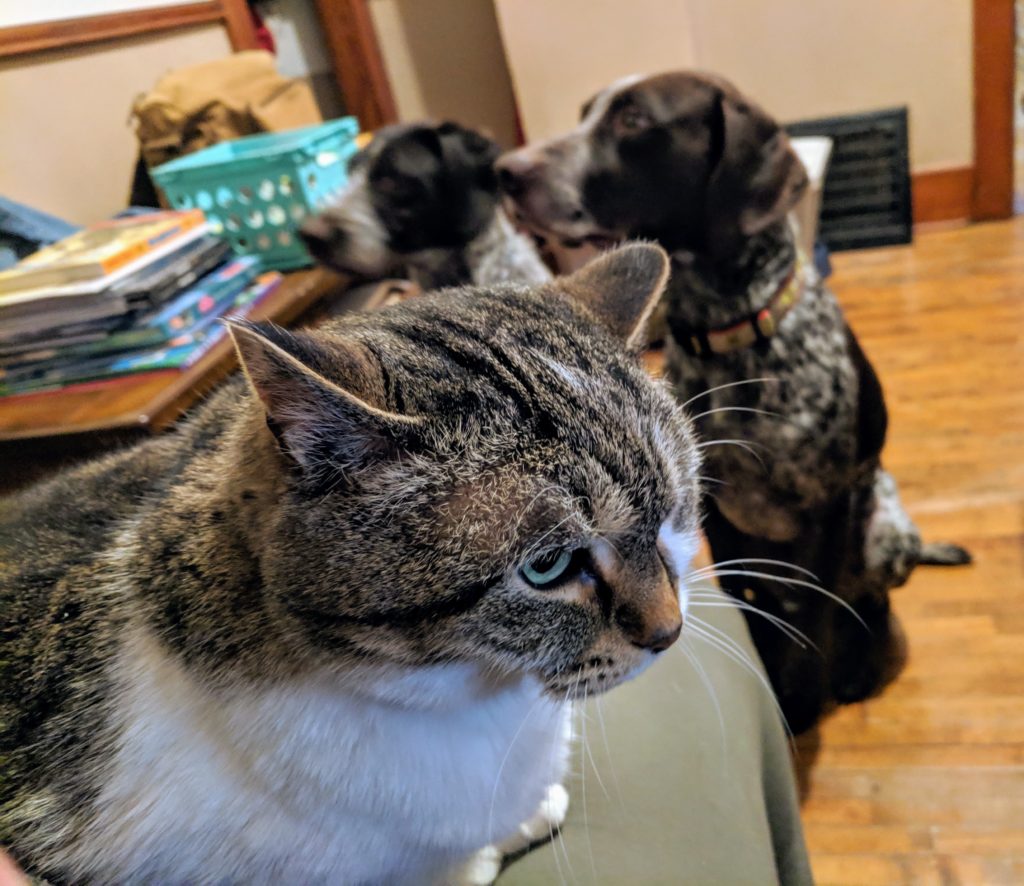 Lucy wanted to show her how capable she is of modeling like the cat on the bag.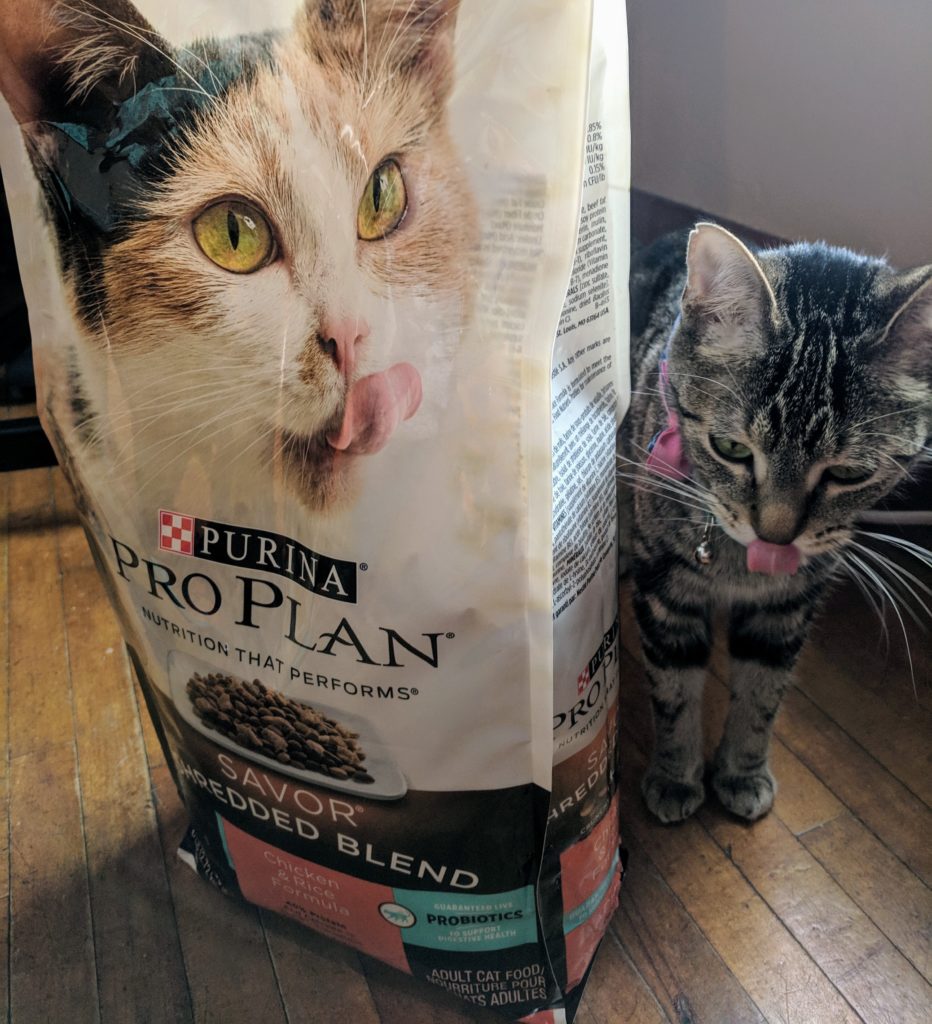 We love that both of these foods have probiotics. Different probiotic strains can have different health benefits in your pet. The probiotic in our select Savor® dry formulas helps maintain digestive health in healthy dogs and cats.
Buy Pro Plan Savor Dry, Get $10 Back in the form of a digital prepaid card. The offer linked here  begins on 1/20/19 and runs through 2/28/19
We love shopping at PetSmart, we always end up with a cart full of toys and treats along with our food. Most of the time we bring our pups on our trip, but it was too cold to bring them outside this time.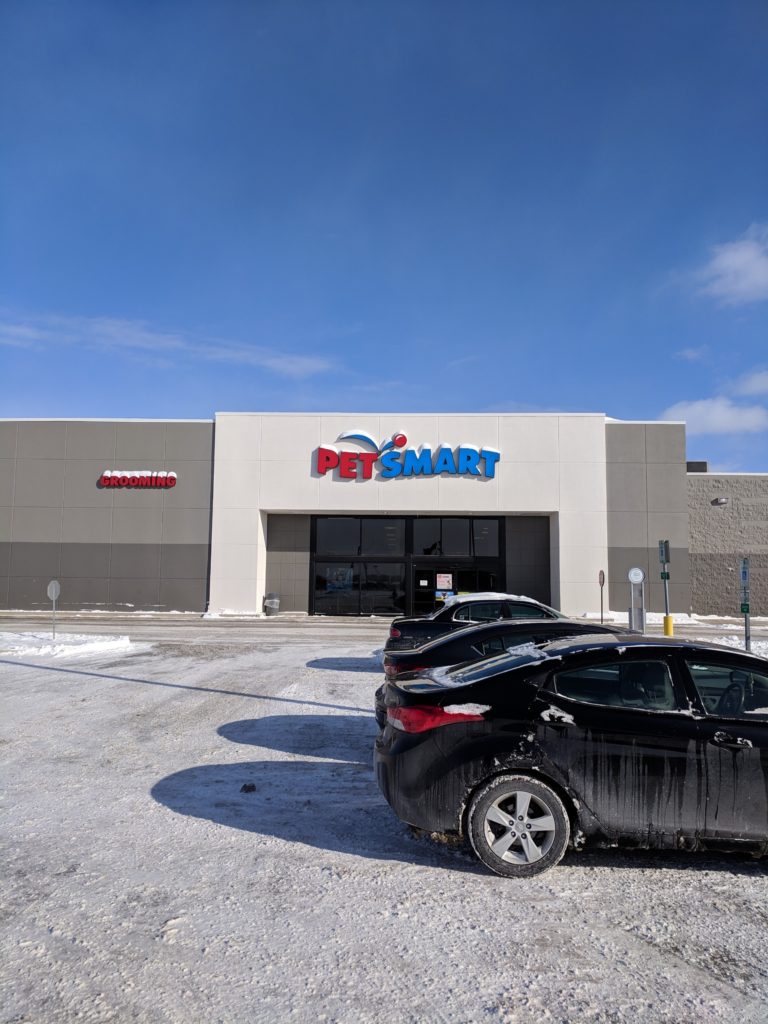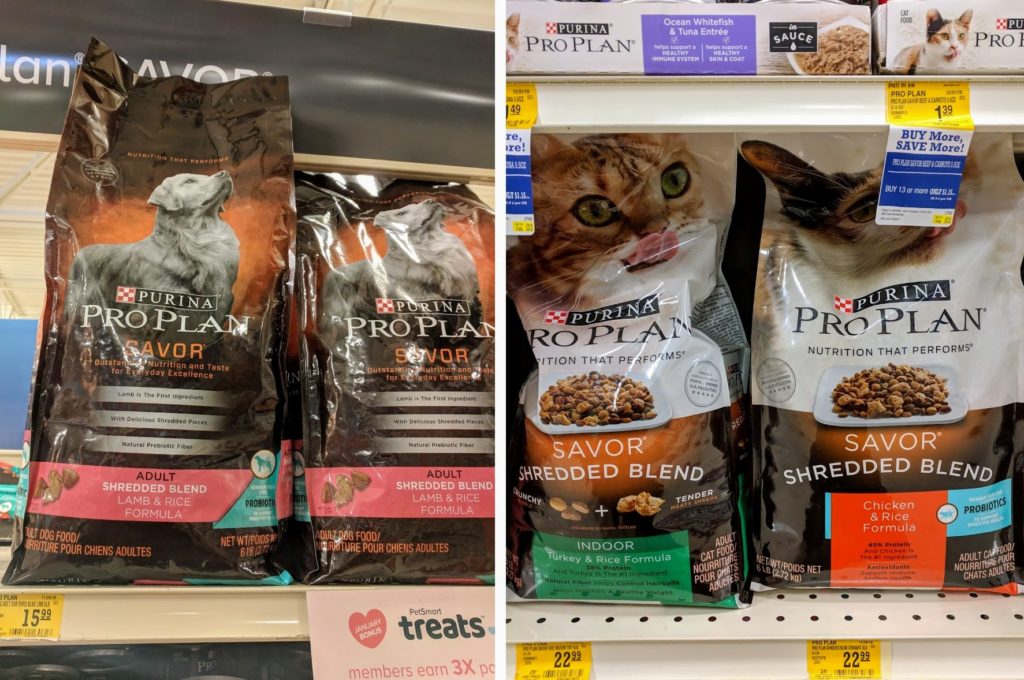 Check out the link here to learn more about the $10 offer and Purina® Pro Plan® Savor® products! What do you do with your pets when it's too cold to play?
Written by, Brittany, the geek behind the blog. I share lots of recipes, my thoughts on the latest tech gadgets, my favorite geeky games, and snippets of life as a Work-at-home mom.