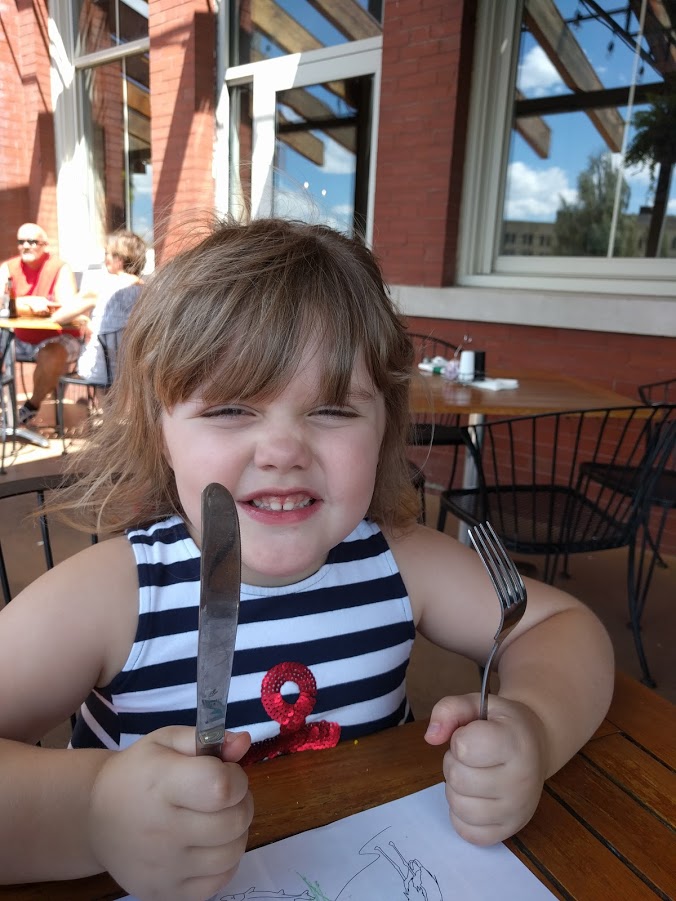 I'm not sure what turned AJ and I into foodies, it might have been traveling to California or maybe it was our visit to Milwaukee's famous Mader's way back in the day when we were dating. It's impossible to argue, we're officially converted to complete foodies and spend way way too much of our income on dining out. So naturally that obsession has transferred over to our daughter, Aliceana, who isn't even 5 quite yet. She has her list of favorite restaurants and insists on ordering her own meal, I think she was barely 3 years old when she stopped the waiter that was attempting  to leave our table to request a "kiddie cocktail" when we were out for brunch.
When we're out and about we love to try new restaurants and Aliceana is up for anything. The other day she cried, real tears, because she was in the mood for Indian food and we didn't have any chana masala or samosas on hand (we thought about making Indian food from scratch at one point in our lives, but decided Trader Joe's is better at making it than we would be.) I was 21 before I had ever tried Indian food, this kid has quite the palette, and the intense love for spicy food.
Speaking of tears, she can't watch Top Chef anymore, because "they always make someone go home and it's sad." She was thrilled that Brooke won this season though, and won't stop talking about it.
We're always going to restaurants where kids are rarely in attendance, and she knows how to behave in restaurants and wins over the heart of every single waitress, even the waitresses not waiting on our table. Most waitresses in the Mid-west know that we have a dog named Trio and a cat named Princess and our house is painted blue and did you know blue is Aliceana's favorite color?
She likes to order from the regular menu too, because sometimes cheeseburgers and grilled cheese just don't cut it. Sometimes the food off the adult menu is cheaper than the kids meals, uh what? Yes, it's a thing, check those menus! She's also willing to try anything once, she was just munching on candied duck bacon the other day like it was going out of style. Which means I'm a little bit pickier than my kid, feel free to judge me.
Here's an older picture of her with S'mores pancakes. She ate them all, because of course.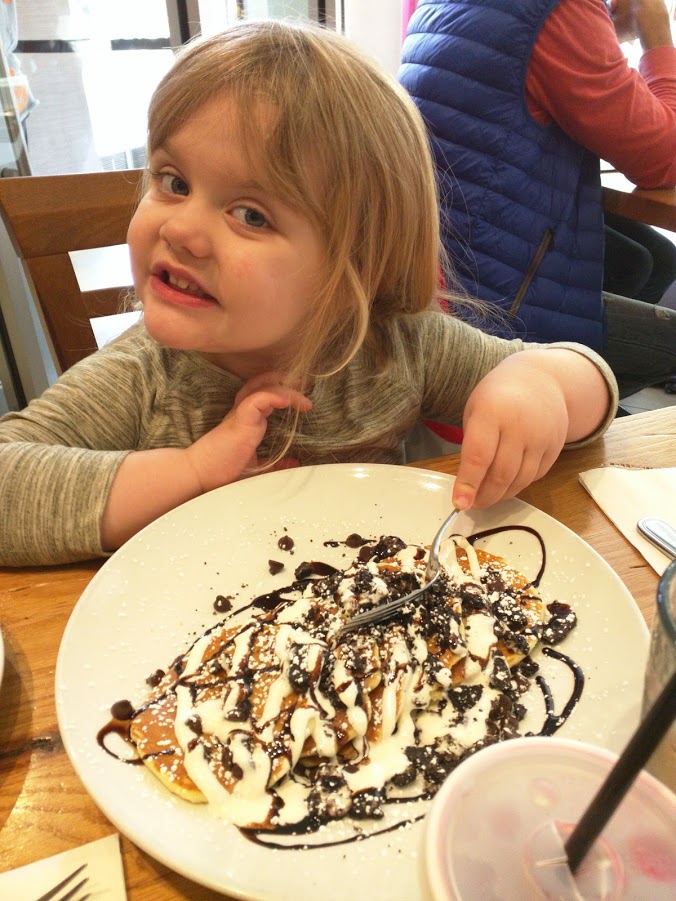 She loves Umami Burger so much, that she pretends that she works there when playing with Play-Doh.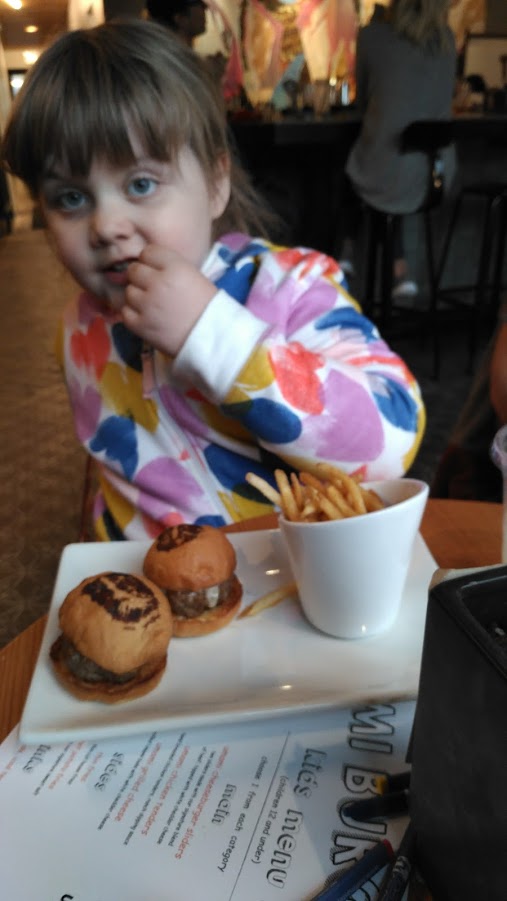 Of course because of her love for kiddie cocktails and root beer on draft her favorite restaurants are those with a bar of some kind, brew pubs are becoming her favorite. AJ works in the beer industry so Aliceana is always wondering what kind of beers we're having with a meal and requests to smell our beer, her response is either something like "ugh beer" or "I think I'll have milk stouts like this when I grow up." We live in Wisconsin so basically every restaurant has some kind of bar, or you know, they probably wouldn't be in business. Wisconsinites need their happy hour.
The restaurants we go to range from so-fancy-that-we-wonder-are-we-dressed-for-this-place? to  local spots with the best darn New York style pizza (New York thin crust beats Chicago deep dish in our family, although we do love a good Giordano's pizza when we head to Chicago.)
This  mac and cheese pizza from Ian's Pizza in Milwaukee was as big as her face.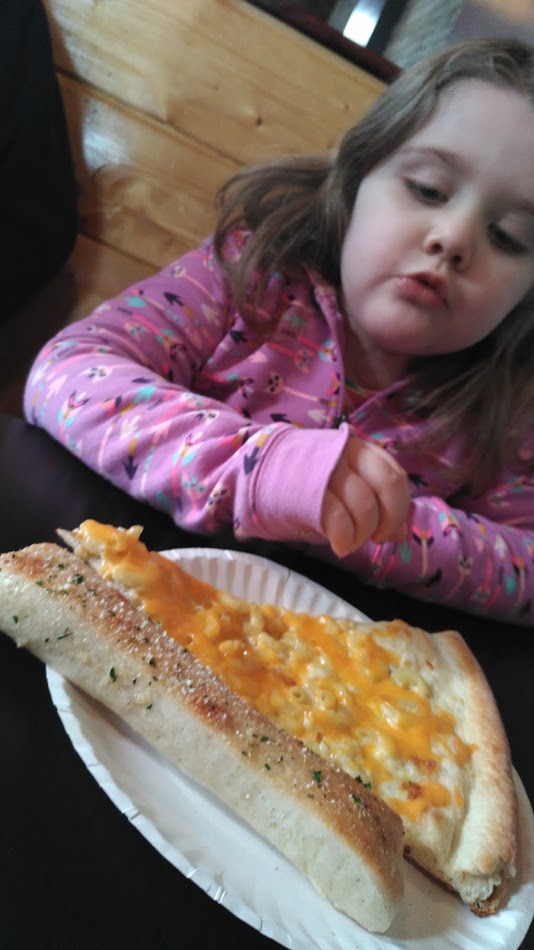 I love being able to share the foodie experience with her. It's so much fun, and it's a great way to spend time together as a family. It is getting to the point where I just need this article to go viral so we can keep affording her sophisticated palette.
Written by, Brittany, the geek behind the blog. I share lots of recipes, my thoughts on the latest tech gadgets, my favorite geeky games, and snippets of life as a Work-at-home mom.