AJ loves french onion soup, it's not my favorite soup in the world, but I get it. (My favorite is chicken dumpling from a little family owned diner, it's the best and I could eat it every day. So I understand his obsession with french onion soup.
Being the awesome wife that I am, I decided to figure out how to make french onion soup at home. We had homemade beef broth, so french onion soup would be easy to throw together, right? Then I looked up how to make it and thought, I'm going to spend all day in the kitchen making this. It wasn't that bad though, and the end result is definitely worth it. See, you have to slowly cook the onions so they're nice and caramelized, then you want to simmer the broth with the onions for a good long time too. Thee key to this recipe is the longer your ingredients simmer the tastier your soup will be. It really is a simple french onion soup recipe, trust me.
My favorite part is the red wine, it really adds to the flavor. Plus, you could pour yourself a glass while cooking. Win-win, right? It doesn't have to be good wine either, I used a bottle of really cheap wine (like $5 on sale cheap) that we didn't like at all and it worked great for cooking!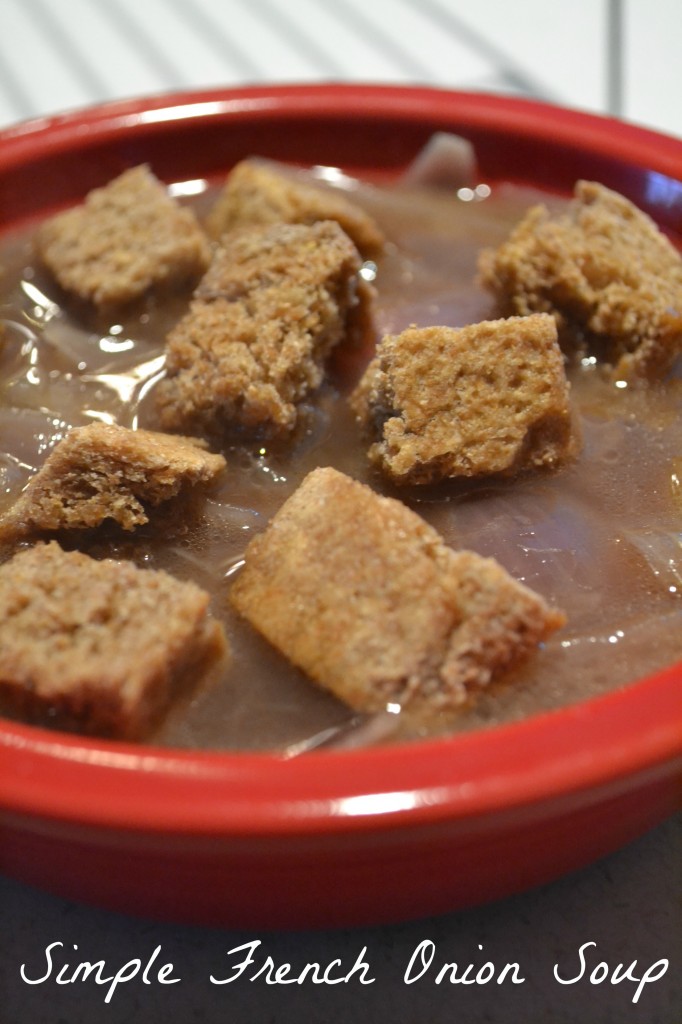 I was on a time crunch so I made this in 2 hours and it was great. You don't have to stir very often either. I waited until you could hear the onions and garlic start to "speak" then I would stir and wait until they would "speak" again. (I think I first heard of onions and garlic "speaking" when I read a Rachel Ray cookbook, basically when they start to cook you can hear them start to make noise in the pot, it's the signal that they're starting to cook or in this case that you should probably stir them.) This is the perfect dish to make this time of year when there's a ton of baking to do, because it's so easy to multi-task in the kitchen while letting this simmer.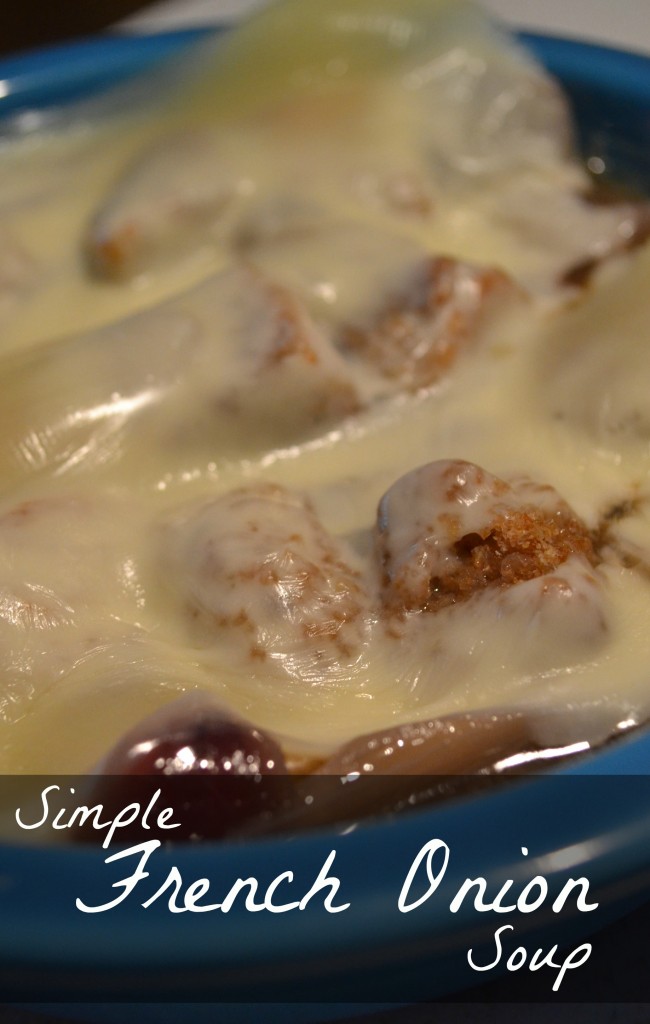 I topped the simple french onion soup recipe with homemade croutons (I made these using homemade wheat bread.) You could also top with a piece of rye bread. I chose mozzarella to top the soup, other options would be Parmesan or Gruyere cheese.
| | | |
| --- | --- | --- |
| Simple French Onion Soup Recipe | | Print |
Ingredients
2 pounds red onions
3 toes garlic
¼ cup butter
1 teaspoon salt
6 cups beef broth
¼ cup red wine
pepper, to taste
Croutons
Sliced Mozzarella cheese
Instructions
Cut onion into eighths and chop garlic into thin slivers.
In a stockpot, melt butter on medium heat.
Reduce heat to low-medium and add onions and garlic. Add salt.
Let cook occasionally stirring for 45-90 minutes.
Add beef broth and red wine, let simmer 30-60 minutes, stirring occasionally.
Add pepper to taste.
Ladle into oven safe bowls, top with croutons and cheese. Broil in oven until cheese is melted.
Do you have a favorite soup?
(I mean besides this amazing simple french onion soup recipe, which will certainly be your favorite soon!)
Written by, Brittany, the geek behind the blog. I share lots of recipes, my thoughts on the latest tech gadgets, my favorite geeky games, and snippets of life as a Work-at-home mom.