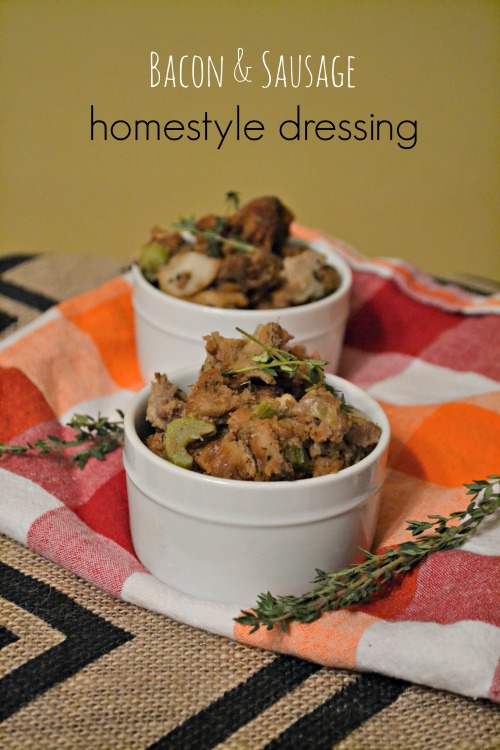 This week we did something that only bloggers would do, we held what I liked to call a #Fakesgiving. We invited 4 family members over for a huge elaborate Thanksgiving dinner. Oh, and by huge I mean we bought a 22 pound turkey and too many side dishes(including the bacon and sausage homestyle dressing that I'm sharing with you today), plus an apple pie for dessert.
Since we've already made 2 pumpkin pies this season, we figured it was time to break out the apple, plus we had homemade apple pie filling at home. The perfect reason why canning your own apple pie filling is a wonderful idea, you just whip up my easy 4 ingredient pie crust and you have a quick, easy, and delicious dessert just waiting to be baked.
One of my favorite Thanksgiving side dishes happens to be stuffing dressing (we don't stuff it in the bird, so it's not technically stuffing.)  It's just one of those side dishes that Thanksgiving would be incomplete without. So I put together my own dressing, I used homemade seasoned croutons, bacon and pork sausage to make this extra tasty. I couldn't believe just how tasty the addition of bacon made this dressing.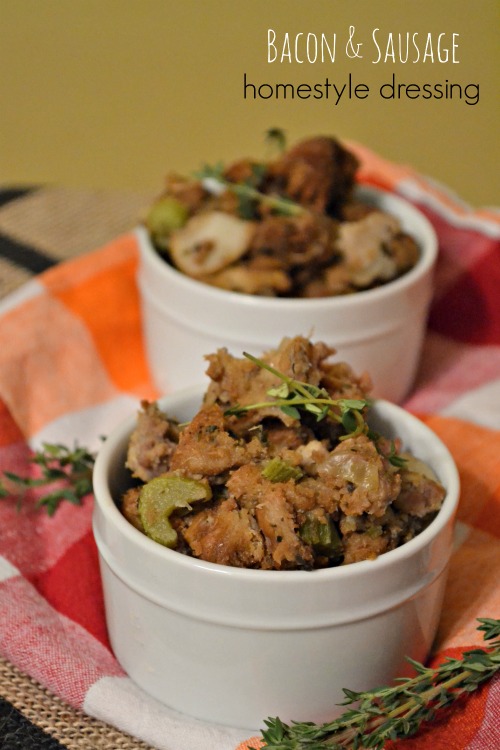 One of the perks of making dressing and not stuffing is that you can get the top layer nice and crispy. If you don't love crusty dressing you can bake the dressing with tin foil on top and you'll have perfectly fluffy dressing all the way through.
This bacon and sausage homestyle dressing is definitely the best I've ever tasted. Everyone at the table took seconds. We managed to still have some leftovers, and they are just as great reheated. This is so good that I'm demanding to make it for our big family Thanksgiving on actual Thanksgiving. I'm definitely going to need to taste another batch of this in a couple weeks.
| | | |
| --- | --- | --- |
| Bacon and Sausage Homestyle Dressing | | Print |
Ingredients
Croutons
1 loaf of whole wheat bread
2-3 Tablespoons olive oil
pinch of thyme
pinch of basil
pinch of oregano
pinch of sage
1 teaspoon garlic powder
1 teaspoon onion powder

Meat and Vegetable Mixture
1 pound pork sausage
½ pound raw bacon, chopped into bite sized pieces
1 cup celery chopped
1 medium onion chopped
pinch of thyme
pinch of basil
pinch of oregano
pinch of sage
1 teaspoon garlic powder
1 teaspoon onion powder
30 ounces chicken broth
4 Tablepoons butter
Instructions
Preheat oven to 350*.
Cut the bread into bite sized squares, place into large bowl.
Drizzle just enough olive oil to coat the squares of bread.
Add seasonings and stir, spread into an even layer on two baking sheets.
Bake for about 7 minutes, stir and bake for additional 5 minutes or until croutons are crunchy. Remove from oven and let cool.
Raise oven temperature to 400*.
Place all meat and vegetable mixture ingredients into a large skillet on the stove.
Cook over medium heat, chopping sausage as you cook until sausage is no longer pink in the middle and bacon is cooked through.
Mix croutons and meat and vegetable mixture together in a large bowl.
Add chicken broth to mixture and mix.
Add 3 Tablespoons of melted butter to the mixture and mix.
Place in a greased cake pan, dot remaining butter over the tops of the dressing
Bake for 20 minutes, if you want a fluffier dressing cover with foil.
Make sure to follow along this next few weeks for recipes for all the foods from out #Fakesgiving spread, including a sponsored post for our garlic bacon butter turkey (you will not want to miss that recipe!)