Thanksgiving isn't even here yet, but we had a ton of leftover from our garlic bacon butter turkey. Turkey sandwiches only get you so far, it's time to get creative. When I was doing our Thanksgiving shopping I made sure to pick up a couple boxes of Stove Top, cheddar cheese soup, and some extra cheese with leftovers in mind. Those three ingredients when paired with your leftover turkey make a delicious cheesy Thanksgiving leftover skillet.
This is one of our favorite dishes to put on our meal plan. It's the perfect simple comfort food. The only reason I haven't posted it on here, is well…because I think it looks like something you'd find in a school cafeteria. I promise it is at least over 9,000 times better tasting than it looks.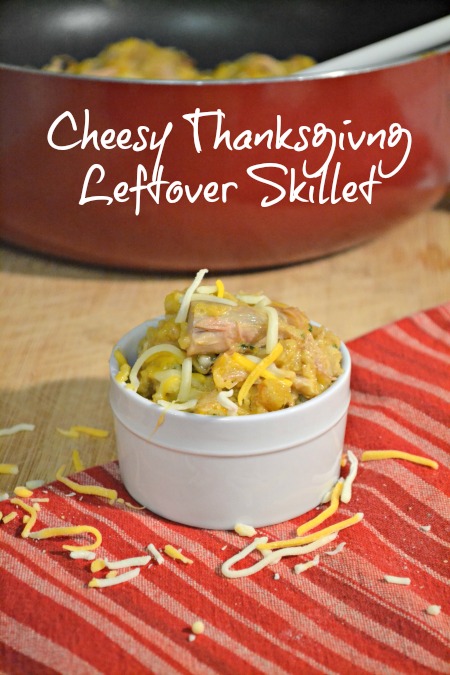 I promise even your picky kids will eat this. Aliceana has been a little bit of a challenge lately when it comes to eating, you know she's just too busy to want to sit down and eat. I mean, how can she tear herself away from toys, or have to sit at the table when the couch is way way comfier. Oh, the life of a 2 year old. When I made this she was excited for dinner and ate her helping in record time. Cheese and turkey in one meal? That's a win-win in this toddlers book!
Another reason why I love making this, is you only dirty one dish (well, and a spoon for stirring, but that doesn't count, right?)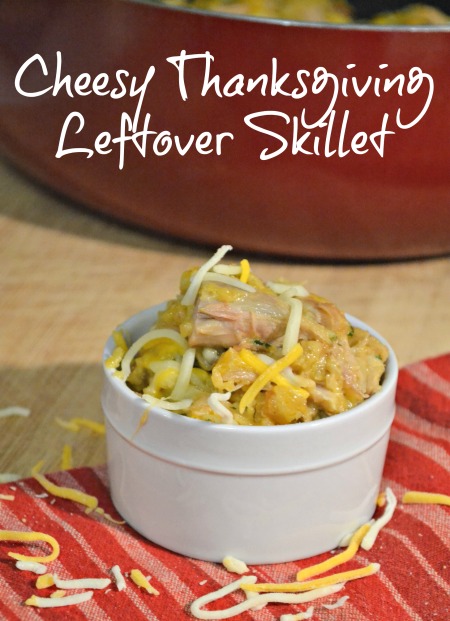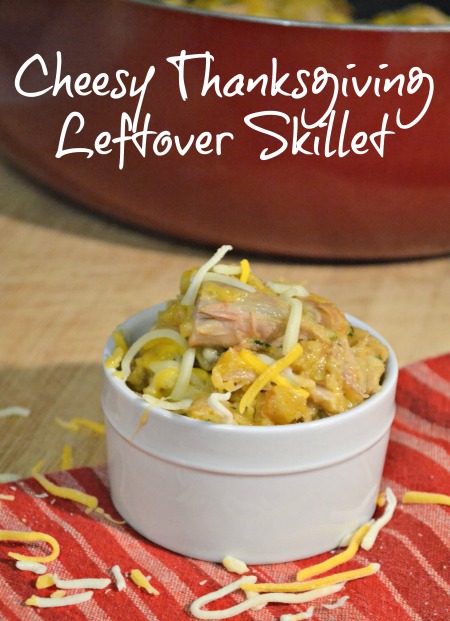 Are you ready to rock your leftovers? Don't have a fridge full of turkey? That's fine too, you can also make this with shredded chicken. I normally cook up a couple of chicken breasts to make this meal, the turkey just lets me skip a step (which is always awesome if you're cooking and busy busy busy like everyone seems to be with the holidays coming up quickly!)
This recipe tastes fantastic heated up as well. I love eating this the next day as leftovers.
| | | |
| --- | --- | --- |
| Cheesy Thanksgiving Turkey Leftover Skillet Recipe | | Print |
Ingredients
2 packages Stove Top turkey stuffing
2 sticks butter
1-2 cups leftover turkey, sliced into bite sized pieces
1 can Cheddar Cheese soup
1 cup shredded Colby Jack cheese
Instructions
Prepare Stove Top according to directions, you'll need two sticks of butter for this.
Add cheddar cheese soup, shredded cheese and turkey to Stove Top and mix well.
Heat on medium low heat until heated through and cheese is melted.
How do you use all of your Thanksgiving leftovers? Anything in particular you look forward to? I know we always fight over grandma's potato dumplings because they're excellent scrambled with eggs.