I love roasting vegetables on a sheet pan, and recently discovered how much better they cook on a Pampered Chef Stoneware bar pan. I simply dice some of my favorite vegetables, put them in a bowl, coat them with a little bit of olive oil, lemon juice, lemon zest, minced garlic and a little bit of salt and pepper. Sometimes I'll add protein like chicken to the top, but I recently discovered just how tasty it is with the addition of beer braised bratwurst. It's kind of magical, the perfect simple dinner.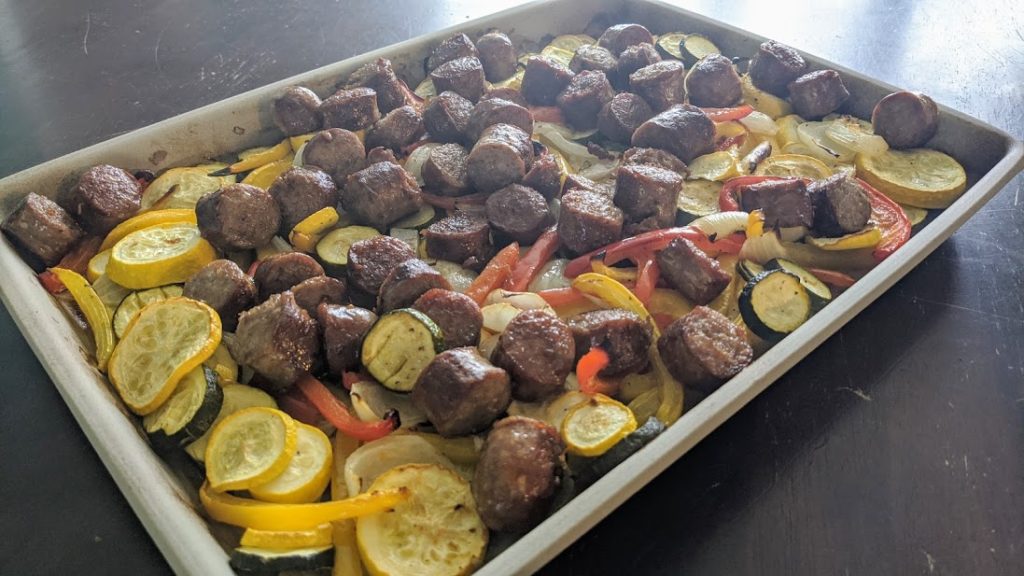 I prep the veggies and throw them in the oven at a hot 425 degrees to get nice and roasted. Then I prep the bratwurst, or brats if you're a Wisconsinite. If you're a Wisconsinite you also know that they have to be Johnsonville brats, while the ingredient list is questionable (mostly corn syrup,) you can't beat the flavor.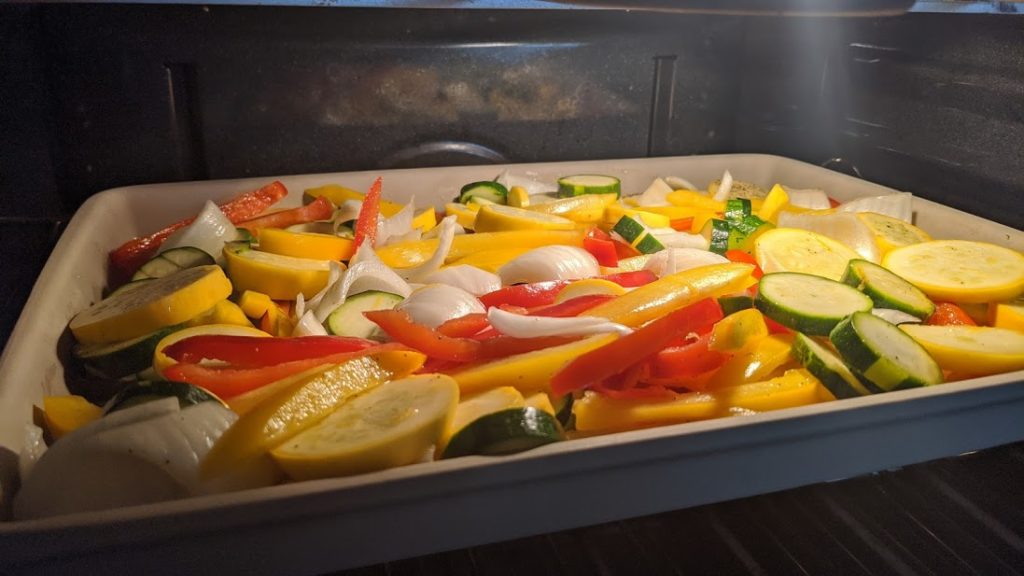 First I fry whole brats in a pat of butter, until fully cooked. I remove them from the pan and slice them into bite sized pieces. I deglaze with an entire bottle (12 ounces) of New England Style hazy IPA, I would recommend any beer with a bit of citrus flavor. Then I cook on medium high until the beer is completely reduced.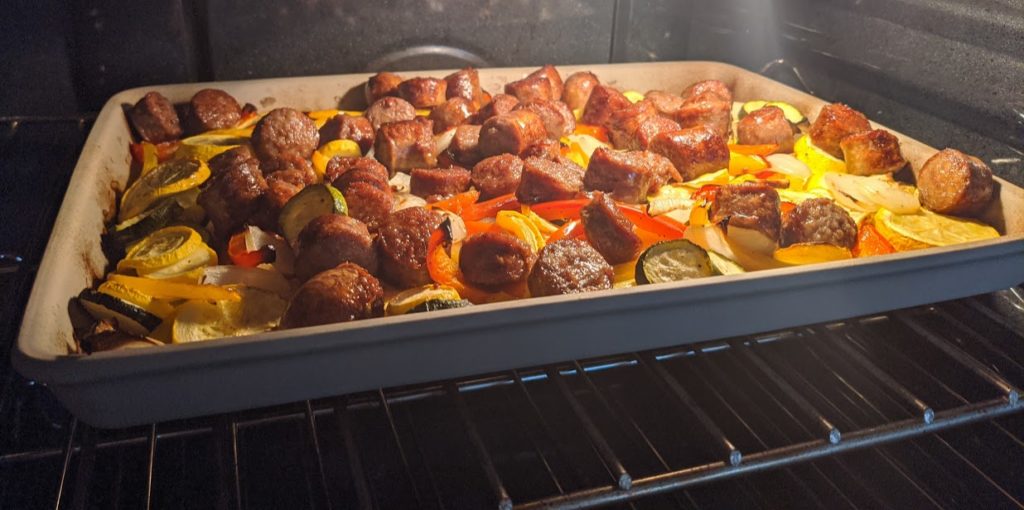 By the time your brats are ready, your vegetables will be close to done too. Give them a good stir, then add the beer braised brats on top. Place bake in oven for about 10 more minutes or until brats are sizzling.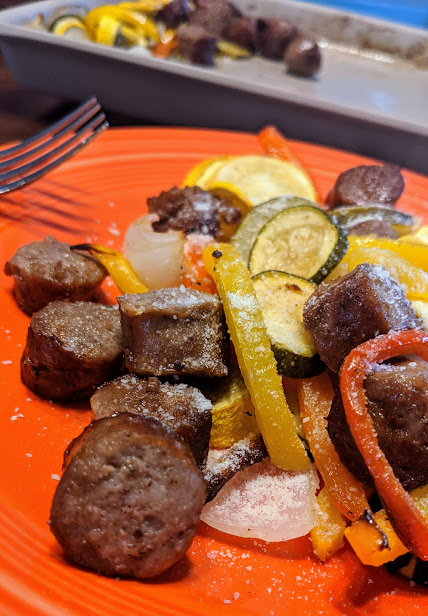 Serve with a dusting of parmesan cheese! This recipe is made so much easier with the help of the Pampered Chef Large Stone Bar Pan and the Citrus Press shop Pampered Chef here!

| | | |
| --- | --- | --- |
| Sheet pan roasted vegetables with beer braised bratwurst | | Print |
Ingredients
4-5 cups sliced zucchini, summer squash, bell peppers, and onions
1 clove garlic, minced
2 lemons
½ tablespoon olive oil
salt and pepper
6 brats
pat of butter
12 oz IPA beer
Instructions
Preheat oven to 425*
Chop vegetables, place in bowl with olive oil and garlic. Gently mix until vegetables are coated with oil.
Add juice and zest from lemons to bowl, gently mix. Season with salt and pepper.
Roast in oven until vegetables start to brown, about 20 minutes.
Meanwhile, cook brats in a pat of butter on the stove.
When cooked through, remove from pan, slice into bite sized pieces.
Deglaze pan with beer, add brat slices and cook down until the beer is reduced and thickened.
Pour beer and brat mixture over roasted vegetables, roast additional 10 minutes or until brats are sizzling.
Written by, Brittany, the geek behind the blog. I share lots of recipes, my thoughts on the latest tech gadgets, my favorite geeky games, and snippets of life as a Work-at-home mom.