Who doesn't love a good smoothie to start your day? Smoothies are so filling and they're packed with good nutrients. This recipe makes a batch for the whole family. I'm obsessed with the deep purple color it turned into.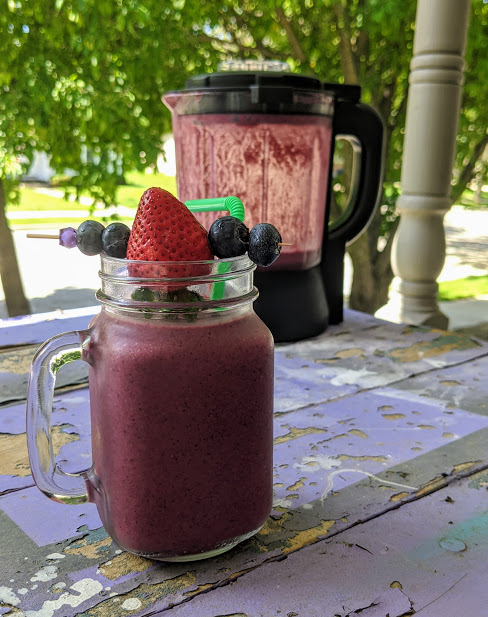 When I was picking out yogurt for smoothies I decided to try using Chobani's coconut yogurt as a base for some fun tropical smoothies. This is one of those recipes that I made up as I went, furiously writing ingredients as I put them in the blender, and oh, it was so good. This is now our go-to smoothie recipe. The tropical flavor of the coconut mixed with the tart cranberries is a wonderful combination. 
How to make smoothies more flavorful.
Don't use ice, use frozen fruit and if the recipe does call for ice, just double the liquids that your smoothie recipe calls for. 
Add a pinch of salt! Salt will enhance the flavors in your smoothie, just like it does in your cooking. A sprinkle of sea salt will really ramp up your flavors. 
Best blender for smoothies
I used the Pampered Chef Deluxe Cooking Blender, not only is it extremely powerful it made the perfect smoothie in exactly 1 minute. It also cleans itself. After pouring out our smoothies I gave the pitcher a quick rinse, added 3 cups of water and a drop of dish soap and set it back on the blender. I hit the heated cleaning settings and waited for it to heat, run and beep. In a couple minutes there were no traces of mess. I only wish the rest of our dishes were cleaned so easily!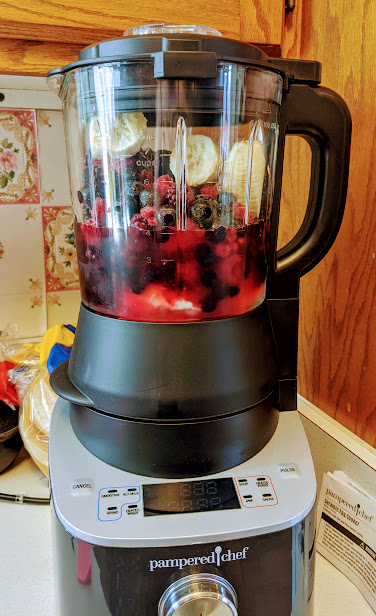 This recipe makes enough for an entire family, four 12 ounce servings or three 16 ounce servings.

| | | |
| --- | --- | --- |
| Tropical Mixed Berry Smoothie | | Print |
Ingredients
2 cups cranberry juice
5 ounces coconut greek yogurt
3 tablespoons old fashioned oats
12 ounces of frozen mixed berries
10 ounces frozen blueberries
1 banana
1 cup milk
Pinch of salt
Instructions
Put all ingredients in blender and blend until combined.
Serve with fresh berries.
Written by, Brittany, the geek behind the blog. I share lots of recipes, my thoughts on the latest tech gadgets, my favorite geeky games, and snippets of life as a Work-at-home mom.