This shop has been compensated by Collective Bias, Inc. and its advertiser. All opinions are mine alone. #MinionsMovieNight #CollectiveBias
You guys, the Minions movie will be in stores tomorrow (12/8)! So we headed to Target to get ready to celebrate in style. In minion style of course.
We can't wait to watch the minions team up with a different villain this time around. Minions are the cutest, yellowest little henchman ever in the Despicable Me movies, and now in their own stand alone film from Illumination Entertainment.
At this point, you've probably encountered photos of every kind of minion decorated dessert that you can dream up. Unfortunately, I'm the worst ever at decorating. So I had to come up with my own minion dessert that had almost no effort required.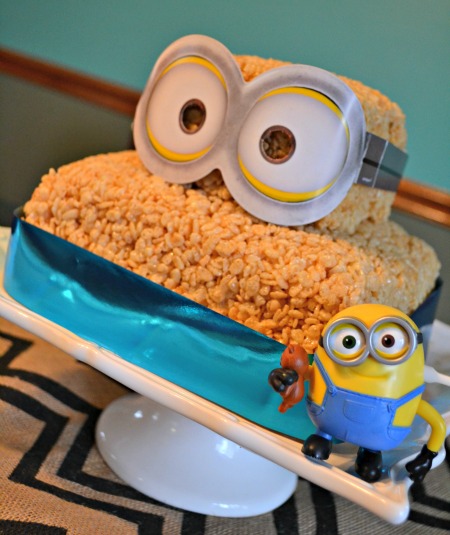 I took my standard Marshmallow Crispie Bar Layer Cake, and turned it into a Minion with help of some blue ribbon and Minion goggles (a party favor I found at Target, seriously Target is my one-stop shop for everything!)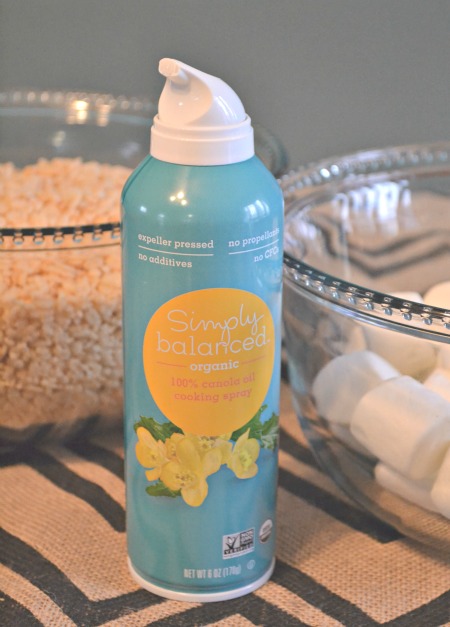 I bought everything from Target, I love that it's a one-stop shop for baking too!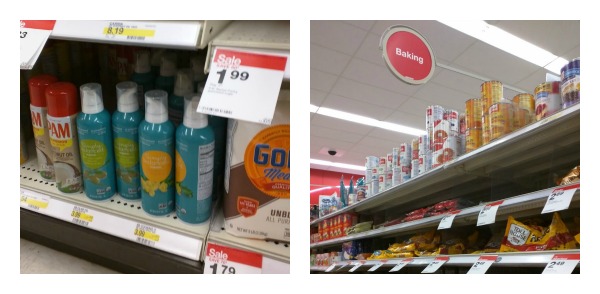 Make the cake according to the directions below. It's really simple, and if the edges aren't perfectly perfect, that's ok, we'll cover them up.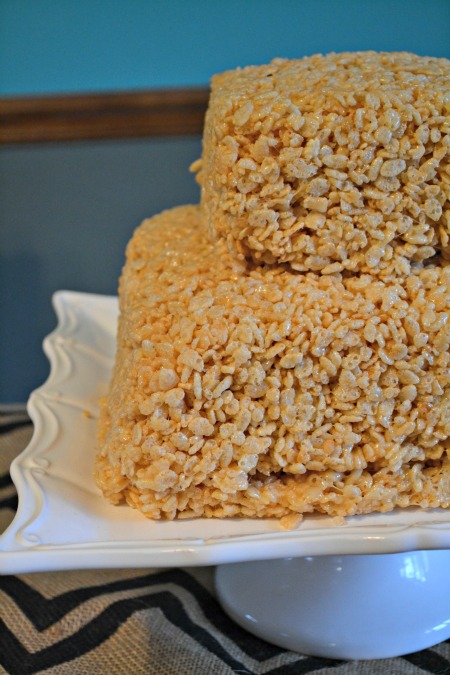 Here's the blue ribbon and goggles, plus a minion toy, I couldn't resist buying that at Target too.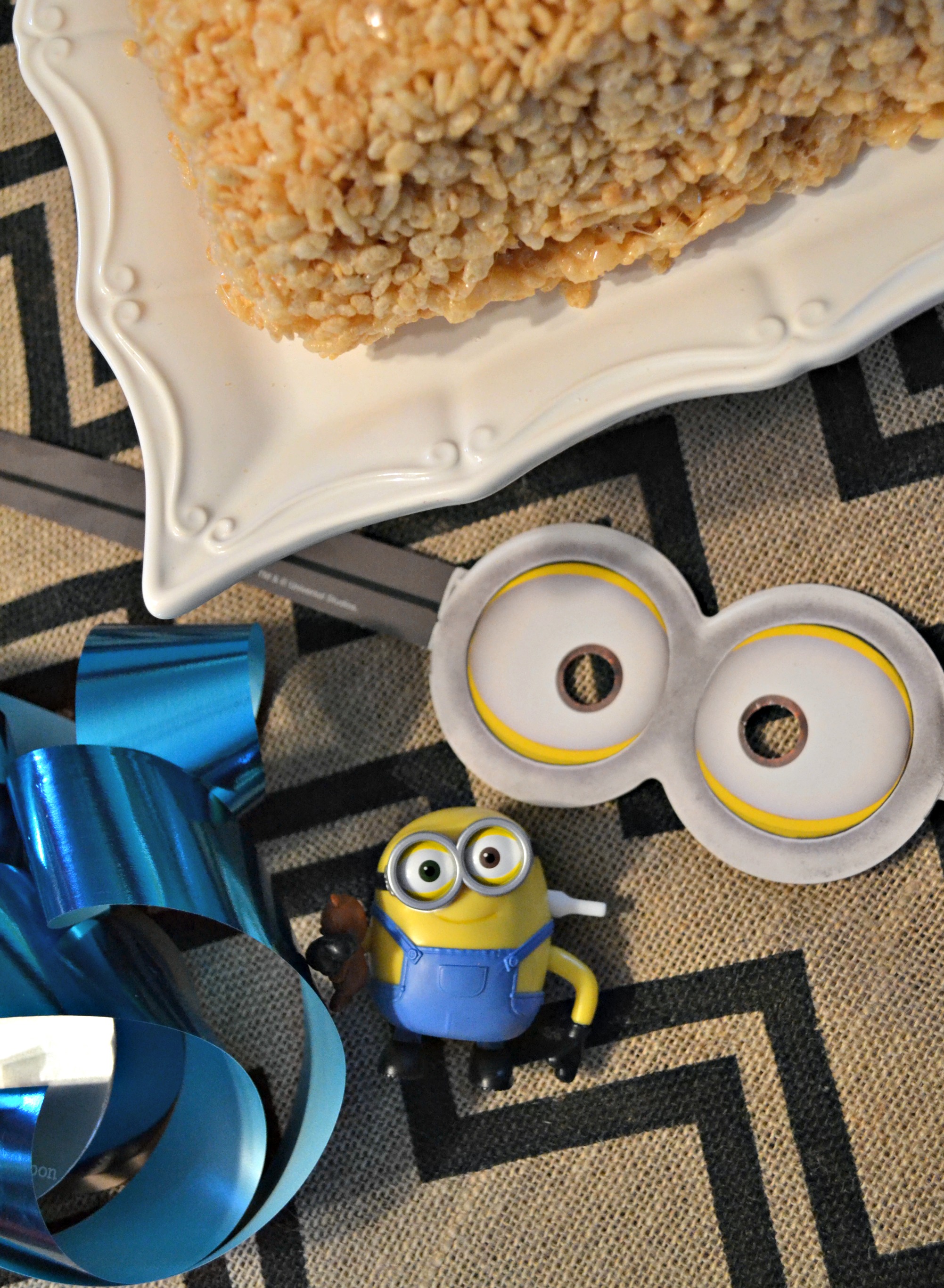 Plus, he lovingly approves of the cake.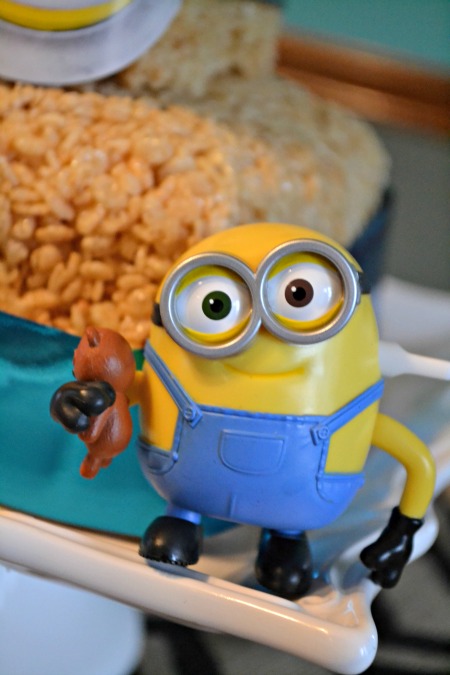 | | | |
| --- | --- | --- |
| Simple Minions Marshmallow Crispie Bar Layer Cake | | Print |
Ingredients
1 batch of these 4 ingredients per cake layer.
7 cups crisp rice cereal
3 Tablespoons butter
5½ cups marshmallows
Parchment paper
Simply Balanced 100% Canola Oil Cooking Spray
Instructions
Cut parchment paper to the width of your cake pan, but long enough to extend out of your cake pan a few inches to pull out the finished layers with ease. Spray pan completely, then add your sized parchment paper, this will make sure the parchment paper stays in place, and the cereal mixture won't stick. (Our first layer uses a 9x9 inch square cake pan, our second layer uses a 10 inch rectangle loaf pan, we just cut the cake in half.)
In a large stock pot on the stove, melt butter over medium heat.
Add marshmallows and continue to stir over medium heat with a silcone spatula until all marshmallows are melted.
Remove from heat and add cereal, stir until all cereal is nice and sticky.
Press into your prepped cake pan, use an extra piece of parchment paper to press the mixture down evenly.
Pop out onto your cake plate while still warm so you can mold it into the square shape a little bit better.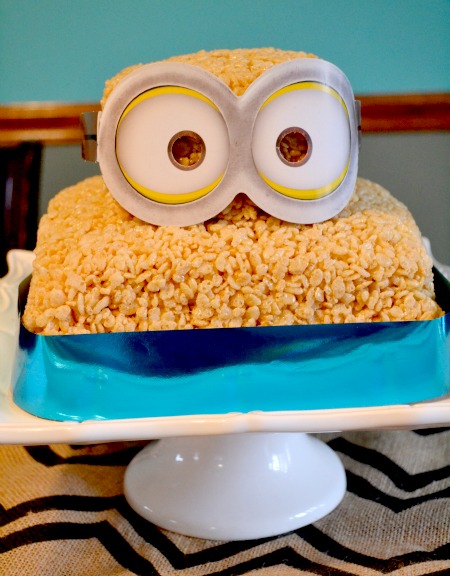 You can pre-order Minions © 2015 Universal Studios. All rights reserved. at Target! You'll even receive a $5 Gift Card with pre-order of Deluxe Blu-ray Edition Minions on Target.com.
Why should you pre-order from Target? They're the only store with The Minions Metalpak Blu-ray/DVD – Deluxe. They also have 40 minutes of Target Exclusive content included on the DVD. Including a really, really fun party planner with great ideas like my minion Marshmallow Crispie Bar Layer Cake.
For more Minions Fun, join our Minions Viewing Twitter Party on December 11th from 7-9pm EST! RSVP at www.SoFabChats.com and follow along with the #MinionsMovieNight on Twitter.
Remember to pre-order the Minions movie tonight, on Target.com and snag that $5 gift card! Find out more about the minions here!