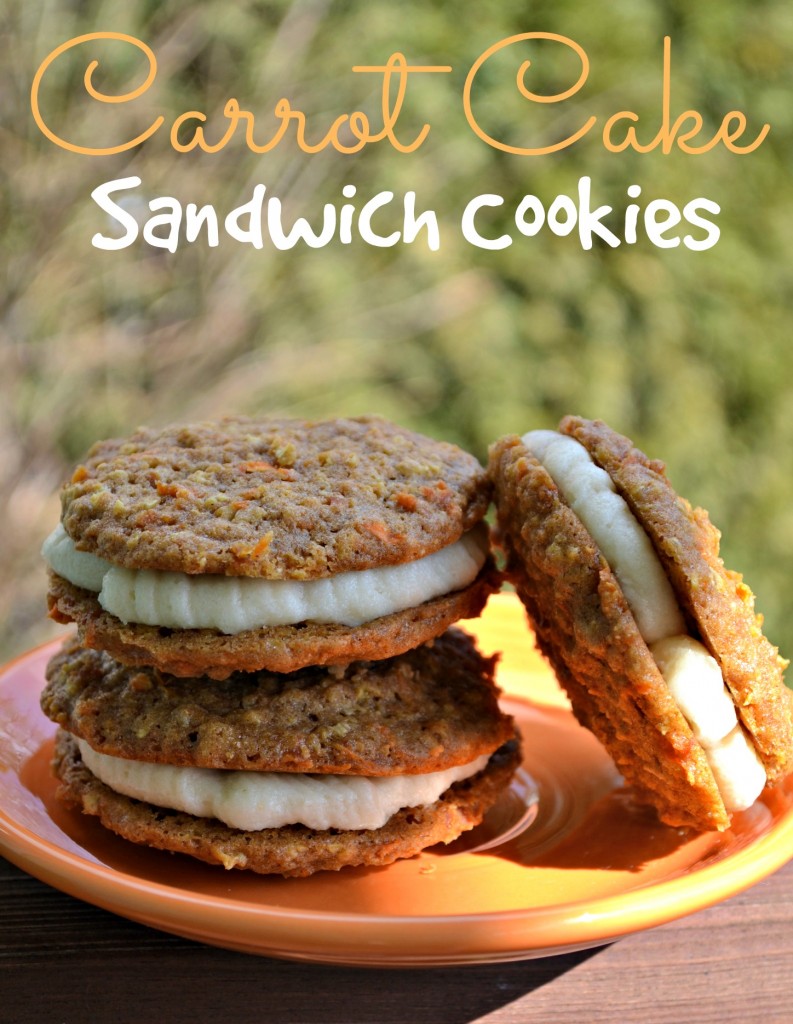 'Tis the season where it's completely acceptable to sneak carrots in your families desserts, right? We all need some bunny food as we prepare for visits from the Easter bunny. This treat is a refreshing dessert to eat in between stealing Easter candy from your children's Easter basket stash. (I might be crossing my fingers that Aliceana gets a few chocolate bunnies to share with me this Easter.) I made carrot cake sandwich cookies with cream cheese frosting. They actually ended up tasting exactly like Trader Joe's Inside-Out Carrot Cake Cookies. We have included an affiliate link to our favorite baking sheets for your shopping convenience!
I can't believe Easter is here already, I think it feels like Christmas was just yesterday. Maybe it would feel a little more like Easter is right around the corner if the weather would cooperate for more than a day. This has to be the longest Winter ever. I can't wait for the warm weather, Aliceana begs to go outside everyday, so I'm pretty sure that we're going to be spending so much time playing with the dogs in the backyard once we have warmer weather. Alright, alright, back to these amazing carrot cake sandwich cookies with cream cheese frosting!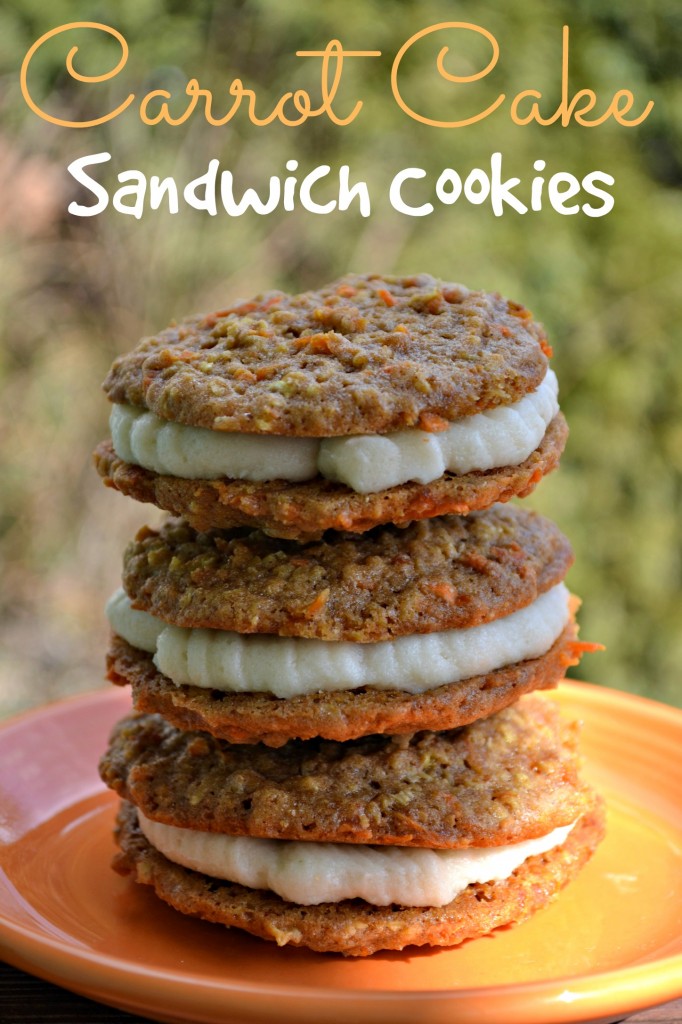 I love the texture of the carrots and raisins in these cookies. I'm normally not a huge fan of sandwich cookies, because they're mostly way too sweet, but with these cookies the homemade cream cheese adds the perfect amount of sweetness, without being too sweet.
I feel like these carrot cake sandwich cookies with cream cheese frosting are the perfect Spring cookie. They didn't last very long in our house. I'll definitely have to make them again before Easter gets here.
I had to throw this last picture in there. That's my HUGE recipe book filled with secret family recipes. We had it out because my husband was making my family recipe for chocolate beer cake.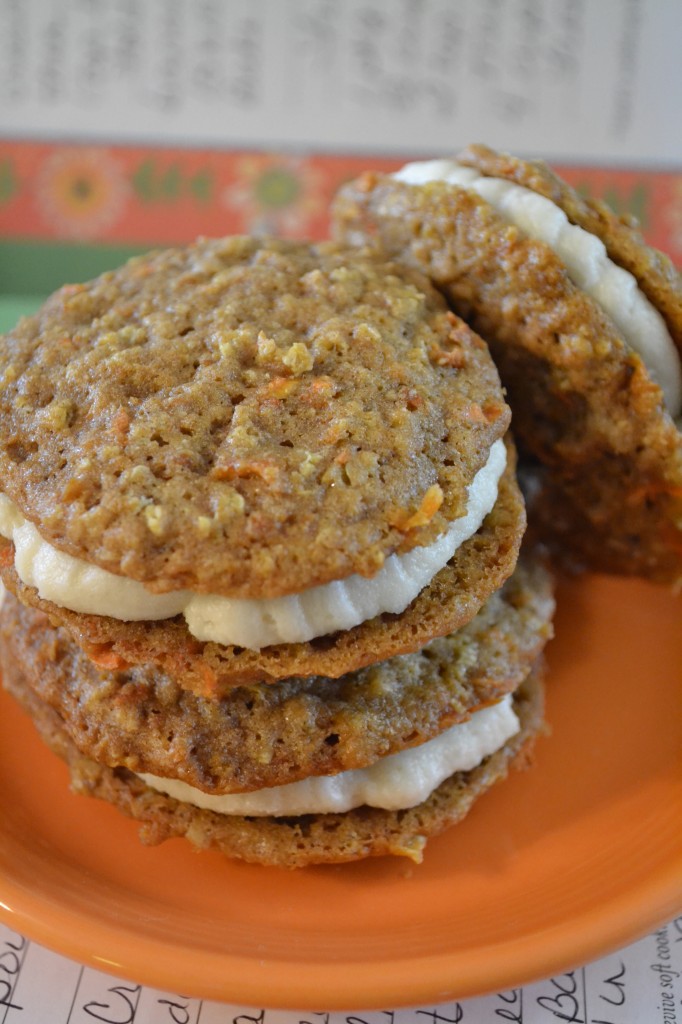 Here's the recipe, I hope you love it as much as we do and here is a link to some great airbake sheets that make perfect cookies!
| | | |
| --- | --- | --- |
| Carrot Cake Sandwich Cookies with Cream Cheese Frosting | | Print |
Prep time:
Cook time:
Total time:
Ingredients
1 cup of butter, softened
1 cup brown sugar
1 cup sugar
2 eggs
1 teaspoon vanilla
2 cups flour
1 teaspoon baking soda
1 teaspoon baking powder
¼ teaspoon salt
1½ teaspoons cinnamon
2 cups rolled oats
1½ cups finely grated carrots
½ cup raisins
8 ounces cream cheese, softened
½ cup butter, softened
2 teaspoons vanilla
About 4 cups powdered sugar
Instructions
Preheat oven to 350* line baking sheets with parchment paper.
Beat sugars and butter until fluffy. Add eggs and vanilla and continue beating.
In a separate bowl mix together flour, baking soda, baking powder, salt, and cinnamon.
Add dry mixture to wet mixture and combine until blended.
Stir in rolled oats, raisins, and carrots.
Chill dough covered in a refrigerator for an hour.
Scoop out tablespoon sized balls of dough onto prepared cookie sheets (leave a 2 inch gap between cookies.)
Bake for 12-15 minutes, until cookies have browned.
Whip 8 ounces of softened cream cheese until fluffy in texture (I always do this with cream cheese, it makes it easier to work with!) Add butter and 2 teaspoons vanilla then cream the mixture together. Gradually add powdered sugar (about 4 cups) until frosting is desired sweetness and consistency.
Pipe the middle of the cooled cookies with cream cheese frosting and form sandwiches.
Store cookies in an air tight container in the refrigerator.
What kind of cookies do you make to celebrate Spring?
Written by, Brittany, the geek behind the blog. I share lots of recipes, my thoughts on the latest tech gadgets, my favorite geeky games, and snippets of life as a Work-at-home mom.