AJ is on the road for 4 days out of the week, so when he finally gets home I love to surprise him with new treats. This last week I had fresh strawberries in the house, so I decided to make muffins. Instead of making my standard strawberry muffin recipe I decided to take it up a notch and make double chocolate strawberry muffins. It was perfect, because AJ is completely obsessed with chocolate, and he definitely loved these muffins. The addition of cocoa powder and chocolate chips make muffins into quite the treat.
So the day he got home we enjoyed some muffins and tea after Aliceana went to bed while we drafted Magic the Gathering cards (it's my newest nerdy addiction.) I'm a huge fan of the 2 or 3 player draft, it's so much fun and I always end up winning. I've quickly figured out how to build great decks, maybe even better than AJ and he's been playing for almost 15 years. I have a green/white heroic deck that annihilates the competition.
Yep, I'm a geek.
I've also been baking in a Tardis apron this week, which has been a challenge since Aliceana thinks it's so cool that she wants to untie it so she can play with it. I probably have the youngest Doctor Who fan ever. We're planning on going to the Chicago Comic Con this Summer and I think her little mind will be blown when we see Matt Smith in person.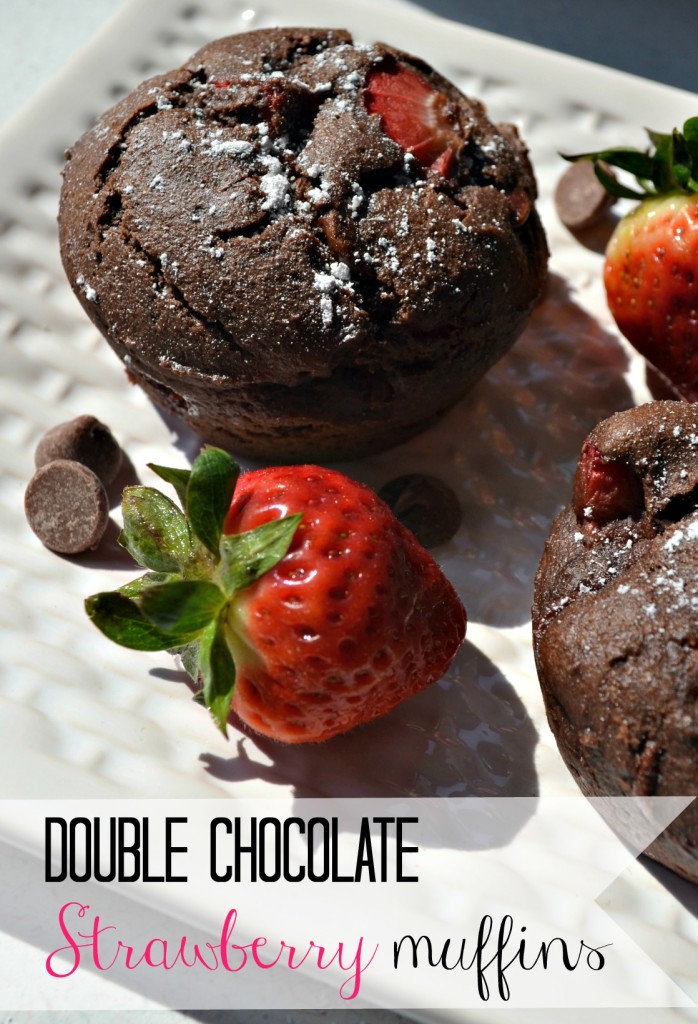 Speaking of Aliceana, and back to the recipe. For some reason Aliceana calls muffins "mommies" lately,  maybe I make muffins too often! You can never have enough muffins though, right?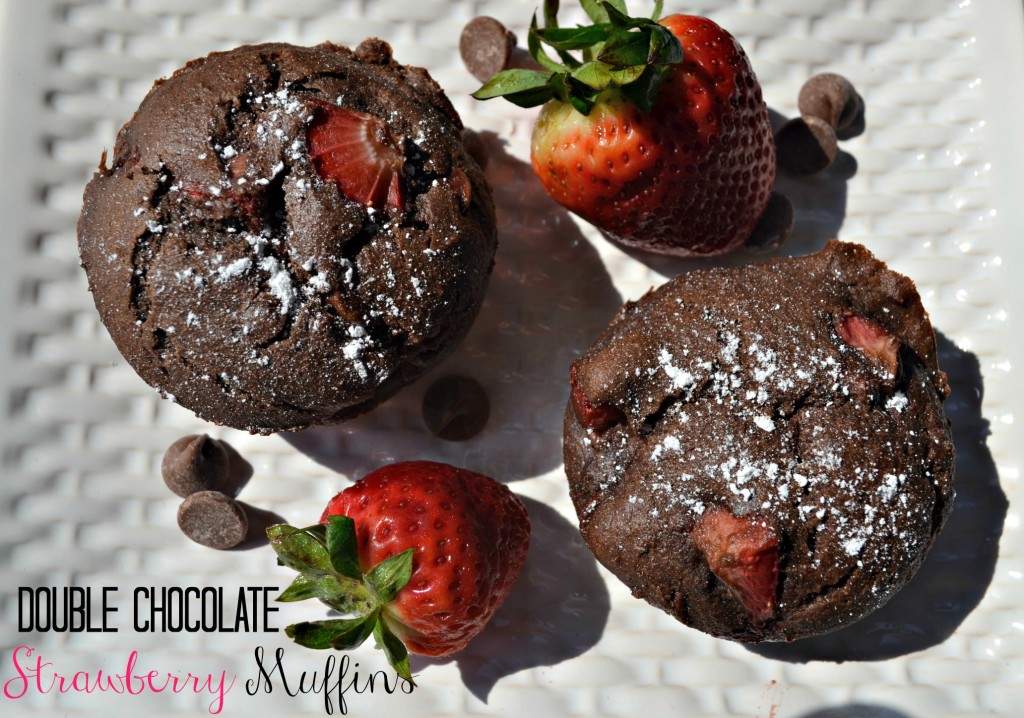 Don't these Double Chocolate Strawberry Muffins look spectacular? They taste just as good as they look. I even made smaller cupcake sized versions. I also sprinkled some powdered sugar on top for a little added sweetness.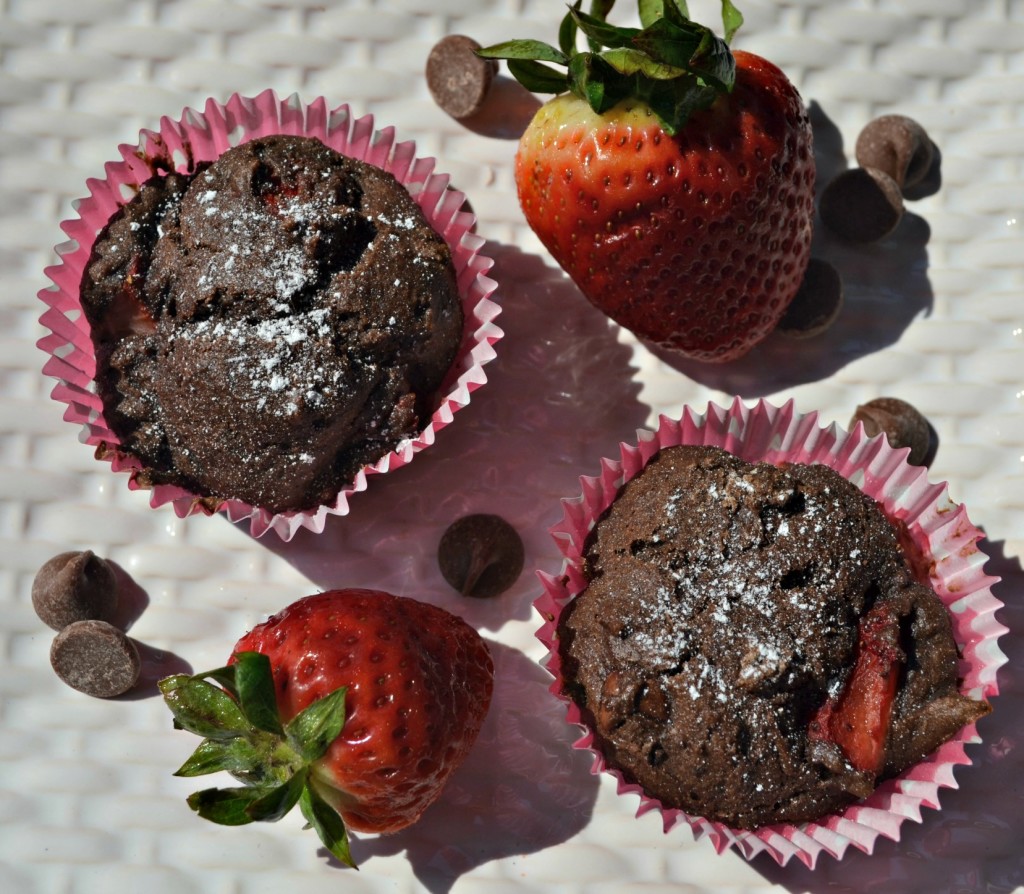 Now the part you've been scrolling down to find. I know, I know, you're all "she's rambling today, I just want to know if I have these ingredients on hand so I can make these muffins!"
So here you go, bake until your hearts and bellies are content!
| | | |
| --- | --- | --- |
| Double Chocolate Strawberry Muffins | | Print |
Ingredients
2 cups flour
¾ cup cocoa powder
¾ cups sugar
1 Tablespoon baking powder
½ teaspoon salt
1 cup fresh strawberries, chopped in bite sized pieces
1¼ cup milk
2 eggs
½ cup butter, melted
1 teaspoon vanilla
1 cup chocolate chips
Instructions
Preheat oven to 350* line your muffin pans with liners or grease.
Mix all dry ingredients in a large bowl, stir in strawberries until coated.
In a separate bowl, beat eggs. Whisk in milk, melted butter, and vanilla.
Add wet mixture to dry mixture and mix with a silicone spoon until combined.
Fold in chocolate chips.
Use a ice cream scoop to evenly divide the batter among the muffin pans.
Bake for 13-15 minutes or until a toothpick inserted in the center of muffin comes out clean.
Allow to cool on a cooling rack and enjoy with a tall glass of milk!
Do you have a chocolate lover in your life, or are you the one that adores chocolate? Let me know in the comments!
Written by, Brittany, the geek behind the blog. I share lots of recipes, my thoughts on the latest tech gadgets, my favorite geeky games, and snippets of life as a Work-at-home mom.