This shop has been compensated by Collective Bias, Inc. and its advertiser. All opinions are mine alone. #AD #Tailgreatness #CollectiveBias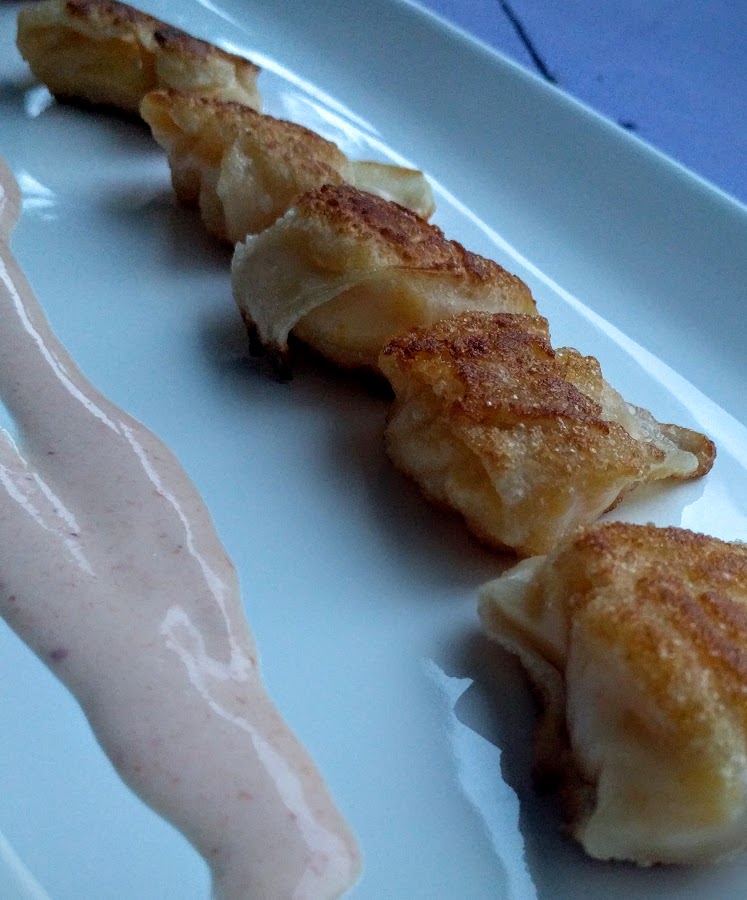 We're the best at coming up with food combinations that are completely ridiculous. I believe that wonton and egg roll wrappers are an open invitation to stuff with whatever epic food you can think of. Scramble some eggs and stuff that in an eggroll. Making tacos? They're taco eggrolls now. No wonder why this post is sponsored by Nexium® 24HR.
Another food trend is mac and cheese. It started with deep fried mac and cheese, and now you can get it on your burgers. It's amazing, you should try it. 
So I bet you know where this is going. You better believe I made a batch of fancy from the box mac and cheese and got to work making Wontons for game day.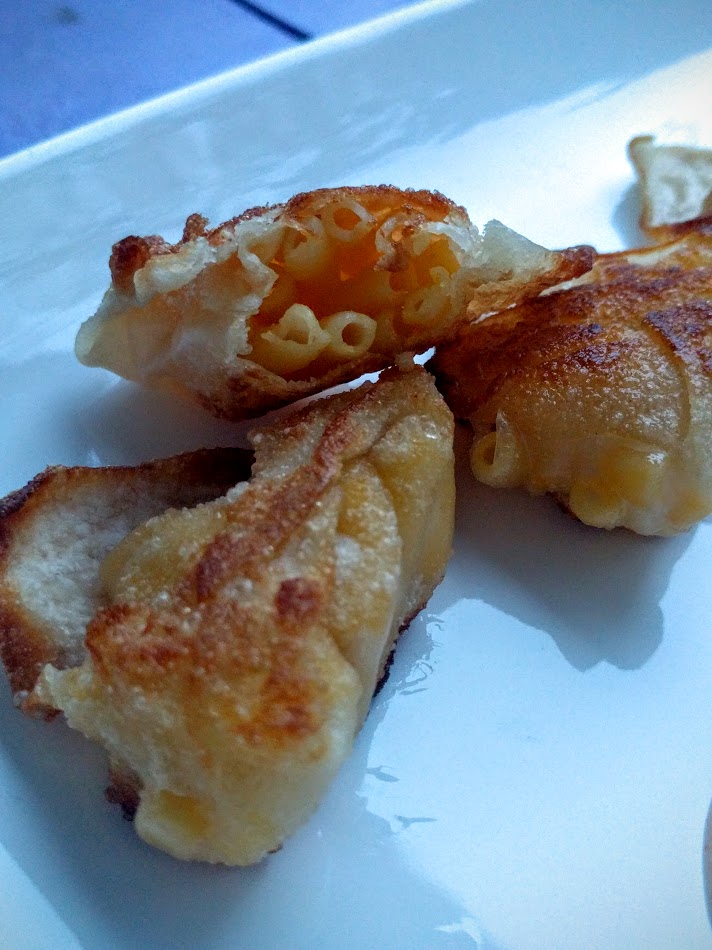 Why Wontons? Well the store was out of egg roll wrappers (probably too many people making scrambled egg rolls or taco egg rolls) and also, an entire egg roll of mac and cheese seems excessive. Instead you get to eat bite sized pieces of fried mac and cheese and that just makes you feel less guilty right? If it's just a bite the calories probably don't even count. (They do.)
It was such an easy peasy process, just get the sides of the Wonton wrapper wet, place a tablespoon of mac and cheese in the center, fold into a triangle and pinch the corners together. then I fried them in a bit of sunflower oil. (Seriously awesome oil for frying anything and everything as it's tasteless.)
They didn't turn out looking red carpet worthy, but that's ok, this is perfect for tailgating when your friends don't care what the food looks like because they're too worried about the game. We served these with a dash of spicy aioli too.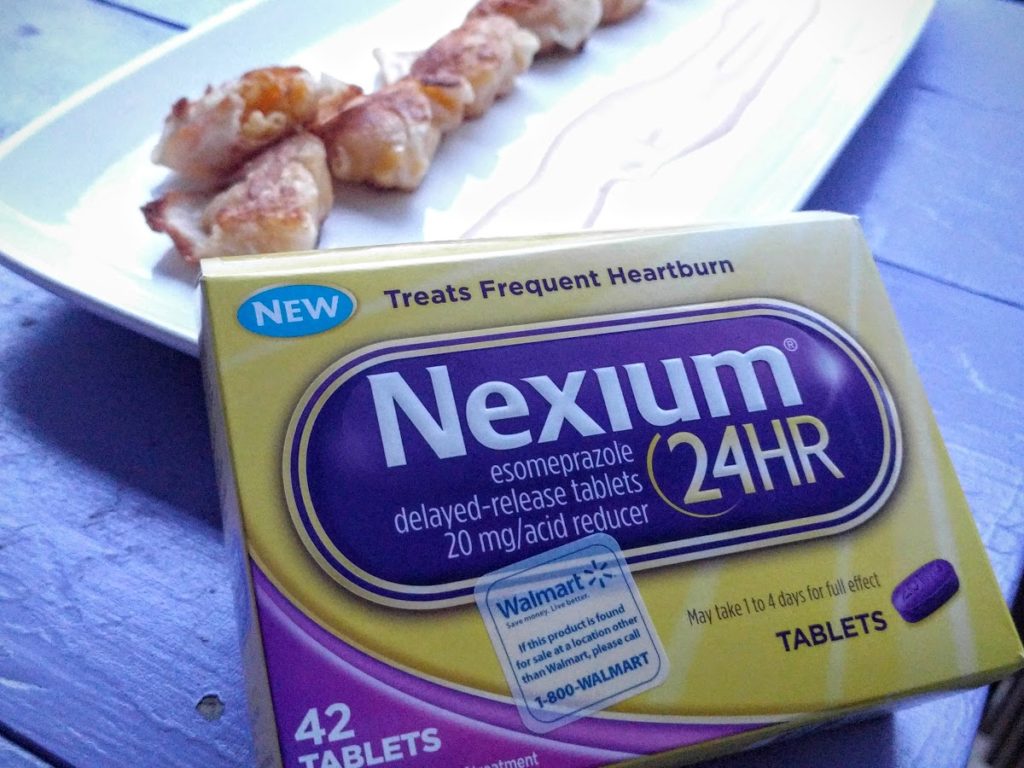 I do have to warn you though, if you're prone to heartburn this is one of those tailgating apps that you should prepare for with Nexium® 24HR, may take 1 to 4 days for full effect. Use as directed. Lucky for you, you can grab your Nexium® 24HR at Walmart. They now come in packages of 42 count tablets!
So now you can enjoy your tailgate food, and forget the heartburn.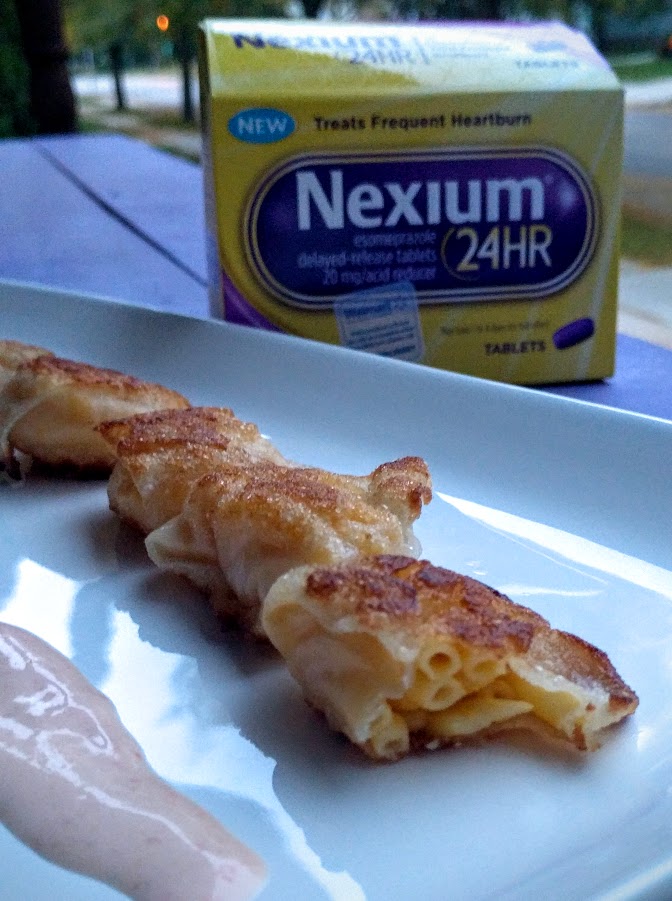 Mac and cheese Wontons for the win. This recipe makes a lot, I'm sure if i had kept going I could have filled all 50 Wonton wrappers, we didn't have that many people to serve, so I made a little less than half of that.

| | | |
| --- | --- | --- |
| Mac and Cheese Wontons and Spicy Aioli | | Print |
Ingredients
1 package mac and cheese prepared according to package instructions
1 package Wonton wrappers
2 Tablespoons sunflower oil
Shallow bowl of water
Aioli
1 cup mayonnaise
juice of 1 lime
pinch of garlic powder
hot pepper sauce to taste
Instructions
Prepare macaroni and cheese and set aside.
Place a Wonton wrapper on your clean kitchen surface, dip your finger into the water and wet all the edges of the wrapper.
Place about 1 Tablespoon of Mac and Cheese into the center of wrapper.
Bring two corners together and seal the edges, pinch the two corners together to make the Wonton shape.
Bring 1 Tablespoon oil to about 350* in a large pan, fry Wontons in batches of 4-6 for 30-60 seconds on each side until brown. Add more oil as needed.
Serve with spicy aioli, which is as simple to make as whisking the above ingredients together.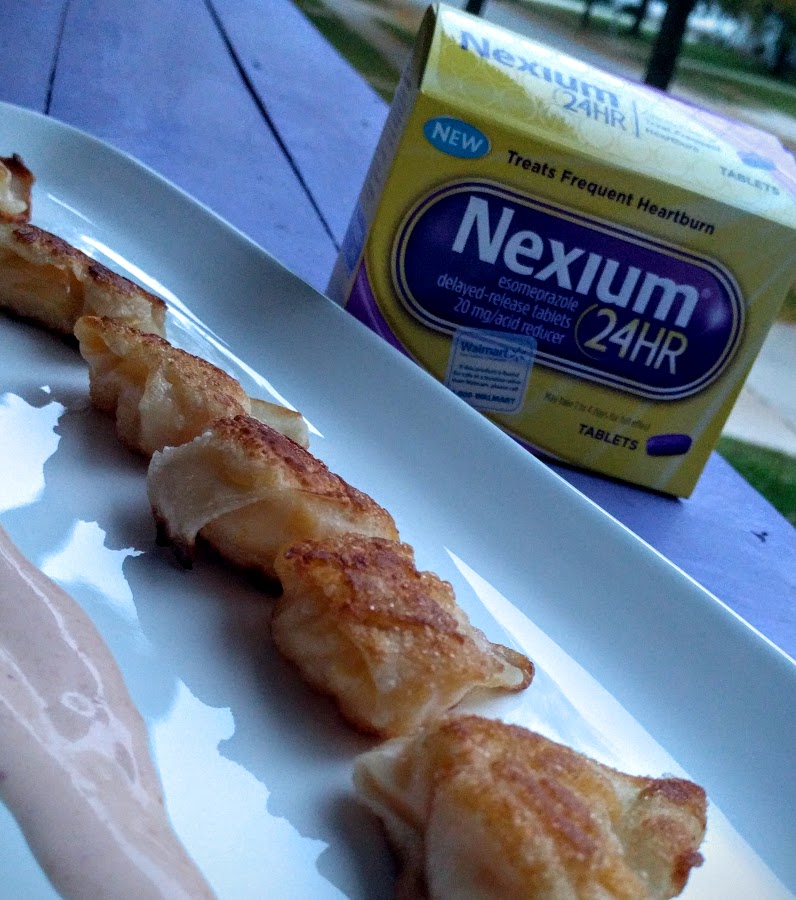 *Nexium® 24HR is just one pill a day for the treatment of frequent heartburn. May take 1 to 4 days for full effect. Use as directed.
Sign up for savings with Nexium® 24HR now!
Written by, Brittany, the geek behind the blog. I share lots of recipes, my thoughts on the latest tech gadgets, my favorite geeky games, and snippets of life as a Work-at-home mom.