For Aliceana's birthday party I knew we needed some kind of festive treat. We were of course going to have cake, so I decided that pie would be a fun addition.
Full size pie is too ordinary though. So I created this personal pie recipe. They turned out way cuter than I had imagined!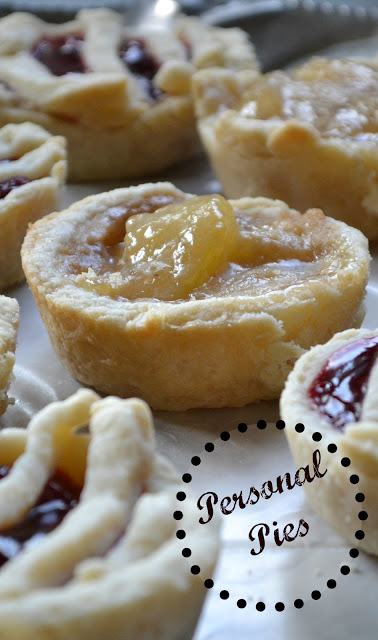 They almost look like tarts, perfect for the Aliceana in One-derland tea party! I love the fact that you can eat these pies without a fork! These are such a crowd pleaser, and officially my new go-to dessert for family gatherings.
(I made apple and cherry pies for this event.)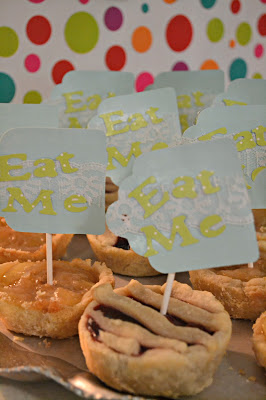 You can fill these with whatever you would like, the possibilities are endless!
(I'm looking forward to mini pumpkin pies this Fall!)
Ingredients
2 cups flour
½ teaspoon salt
⅔ cup cold butter
4 Tablespoons water
Your favorite pie filling (enough for one full size pie)
Instructions
In a large bowl, combine flour and salt. Cut in cold chunks of butter until mixture resembles cornmeal.
Stir in water gradually, keep stirring until mixture forms a ball (I normally help the process along by shaping it with my hands)
Cover bowl in plastic wrap and refrigerate at least 4 hours. (Personally, I make this a day ahead and refrigerate overnight. If you do this allow the dough about 30 minutes on a floured counter top to soften up a bit before trying to use it.)
Roll dough on a floured surface with a floured rolling pin until about ¼ inch thick. Using a glass or bowl 4 inches in diameter cut into discs (you'll then need to re-roll out the dough) press discs into greased muffin tin to form bowls.
Use any dough scraps for topping the pies. I topped the apple pies with a brown sugar crumble (1/4 cup brown sugar, 1 Tbsp butter, 2 Tbsp flour)
Bake at 425* for 16-18 minutes.
Let cool and remove from muffin tin with a spoon.
Written by, Brittany, the geek behind the blog. I share lots of recipes, my thoughts on the latest tech gadgets, my favorite geeky games, and snippets of life as a Work-at-home mom.