Breakfast is probably my favorite meal of the day, I mean, unless it's a quick grab a granola bar on the way out or have a boring bowl of cereal type of day. We've been making big breakfasts at home extremely often thanks to our flexible schedule, I work from home, Aliceana is homeschooled and AJ's job often doesn't require him to leave the house before 9 or 10. We've been having breakfast at home so often that we now buy our eggs in bulk at Costco (that's a lot of eggs for a family of 3.) One of our favorite breakfasts is a simple English breakfast, I think we watch too much BBC, but now baked beans have made it on our breakfast plates, and oh, it is awesome.
I was craving something different though, breakfast biscuit sandwiches. Honestly I wanted a breakfast biscuit so bad that I was going to settle for one from McDonald's, but then it dawned on me that I'm actually good at making my own from scratch biscuits. Plus, I have a husband that's pretty darn good at frying eggs and all the other breakfast stuff that men inherit (breakfast is the one meal I am terrible at cooking, what's with that?)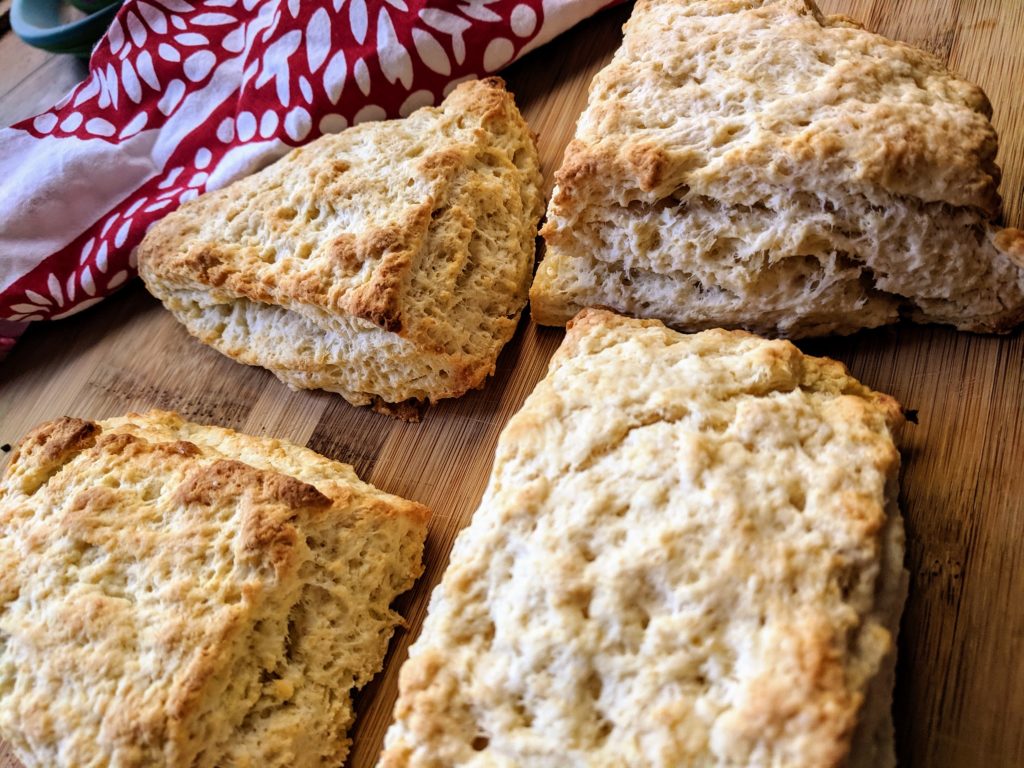 So I started baking before 6:00 AM, coffee in hand.
I put all the dry ingredients in a bowl, and cut in the butter. If you ever think you'll make homemade four ingredient flaky pie crust or biscuits, (affiliate link) buy a dough cutter
, less than 10 bucks and it helps you make perfect dough.
Instead of hand cut circle biscuits (which means I dirty a drinking glass, because I don't have circle cutters for biscuits even though I make them all the time.) I made kind of a loaf of biscuits as rectangular as I could with my hands and a rolling pin and cut it into 6 mismatched pieces since my rectangle looked a little Frankenstein-ish. Alas, those 6 mismatched pieces made enough for breakfast sandwiches 2 days in a row. Plus, they look super rustic, and Pinterest ready, right?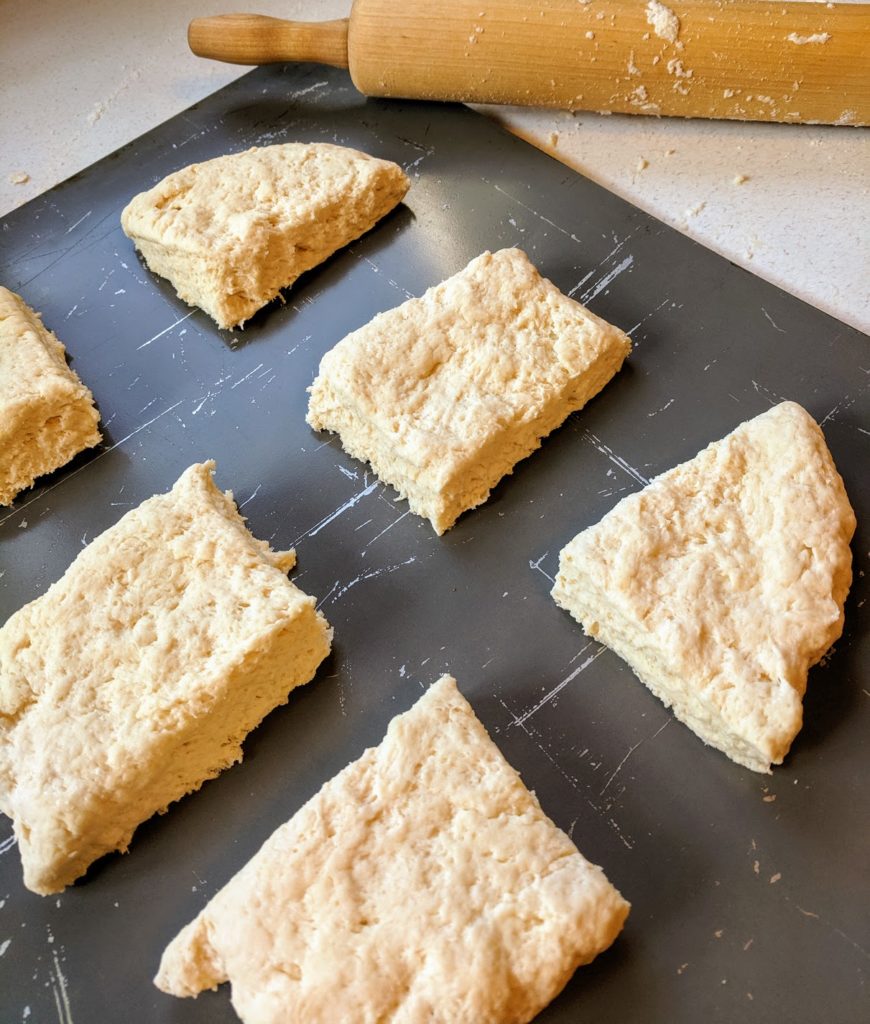 We stuff our sandwiches with a fried egg, sausage or bacon, and a bit of cheese (I've been using shredded because I keep forgetting to buy sliced cheese, don't tell any of my fellow Wisconsites that.)
These are crumbly and amazing, the perfect texture for a breakfast sandwich. Unfortunately, breakfast sandwiches don't photograph well, so you'll have to take my word for it. See, it's a sea of beige blah, the worst enemy of a blogger, but so so tasty for a little bit of work.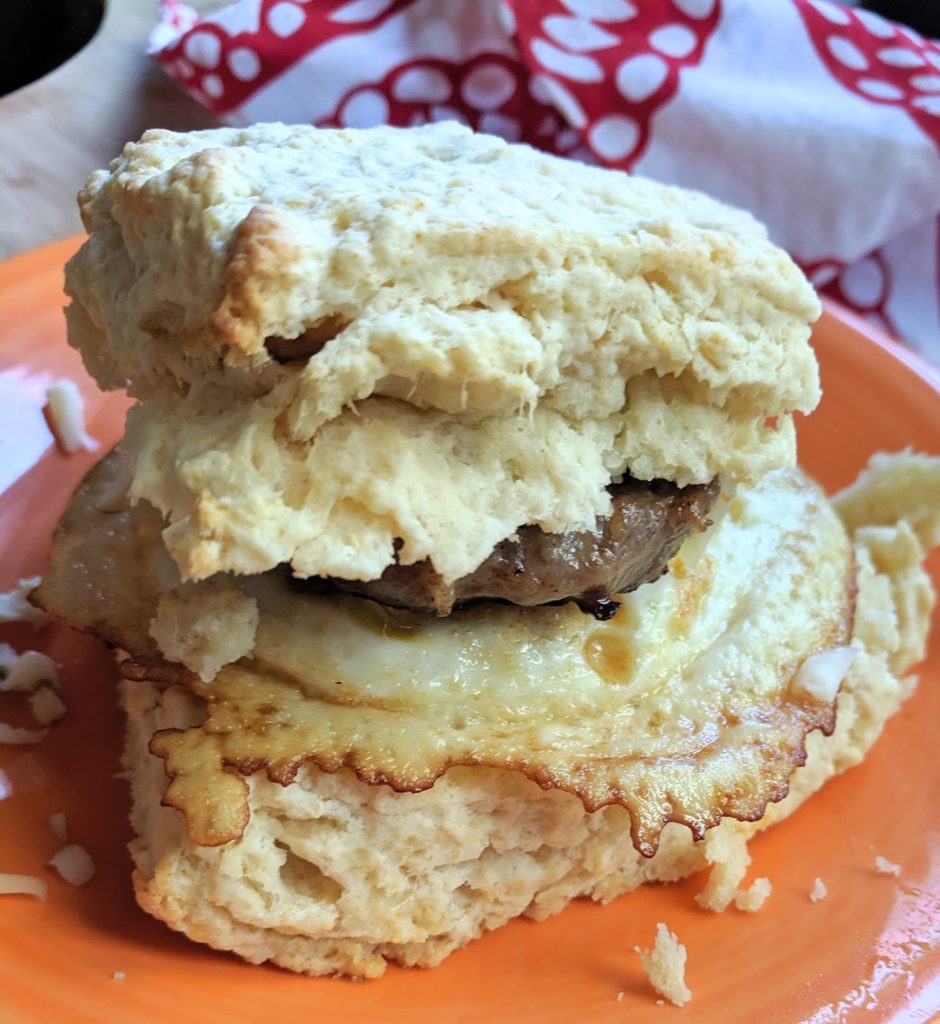 Here's the recipe!

| | | |
| --- | --- | --- |
| Homemade Biscuit recipe for breakfast sandwiches | | Print |
Prep time:
Cook time:
Total time:
Ingredients
2 cups white whole-wheat flour
1 Tablespoon baking soda
1 teaspoon salt
1 Tablespoon cane sugar
⅓ cup cold butter
1 cup milk
Instructions
Preheat oven to 425*.
In a large bowl, combine flour, baking powder, salt, and sugar. Cut in the shortening with a dough cutter until mixture resembles coarse meal.
Gradually stir in milk until dough is formed.
Turn onto a floured surface and lightly knead about 10 times.
Using a rolling pin and your hands to form the dough into a rectangle, use a knife to cut into 6 pieces.
Place on a baking sheet and bake for about 13-15 minutes.
If you enjoyed this post or want to save this recipe for later make sure to pin this post on Pinterest by hovering over any photos and pressing the Pinterest button on top!